His Side: Here's the Reason Why Ed Hartwell Split From Keshia
The athlete left no stone unturned.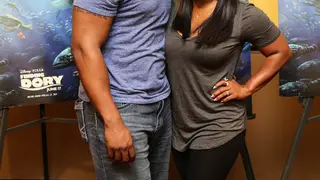 Now that it's public knowledge that Ed Hartwell is washing his hands of his marriage with wife Keshia Knight Pulliam, the details are pouring out as to the reason why. Yesterday, the Cosby Show actress shared her side of what went down — including accusing her estranged husband of cheating — and now it's Ed's turn.
According to Page Six, Hartwell said the couple's marriage fell apart just two months after they tied the knot. The athlete said their marriage was destroyed by jealousy, disagreements about starting a family and suspicions about unfaithfulness on both sides.
In fact, he said they stopped having sex after their romantic relationship began to deteriorate, but Keshia was determined to get pregnant, so he suspects she went behind his back and got knocked up.
"She wanted a baby really fast, and what I was trying to explain to her was that — from my beliefs, from seeing other successful people — that when you first get married, especially since we didn't have a long courtship, that we should actually focus on each other and not just have a baby," he said. "That's something she really did want to do."
He said that, back in February, he "had a sit-down" with his wife, telling her they probably moved too fast in their relationship.
"I said, 'I think we probably messed up. I think we moved too fast," he said. "Our lives and wants are headed two different directions."
He even revealed during this sit-down that he still had feelings towards his ex who "lost a baby," saying he still "cared about her."
"[Keshia] wasn't mad that I still cared about her," he said. "All she was mad about was, 'You don't want to have a baby, but you're mad about her baby. You can't talk to her 13-year-old daughter. And there was a big fall-out."
This is where things apparently took a turn for the worse, with Hartwell saying his wife started visiting a spiritualist and "started going out with friends all the time and not telling me when she was coming home or sometimes not coming home at all."
This all led him to suspect that something's been going on that he doesn't know about, but he would not go as far as to accuse her of cheating: "I can't say she's been unfaithful. I can say she's stayed out, she's not come home, she's went out-of-town... for three days, I don't know what's going on," he said. "I can say that. I can't say she was unfaithful. I can say she wanted to get in vitro, I can say she wanted to do some things to make sure she got pregnant. I just want to make sure it is mine."
Get the background on their divorce with BET Breaks, above.