Houston Police Launch Investigation After Bun B Called Out Former Officer Over Alleged Racist Post
The officer in question posted a photo comparing Black people to monkeys.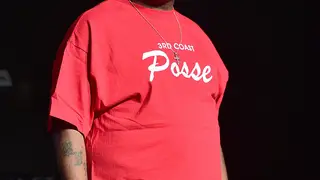 The Houston Police Department began an internal investigation after rapper Bun B called attention to a racist post on social media that was allegedly made by a former police officer.
Officials are reportedly investigating whether any Houston officers are connected to the alleged post in any way. Police Chief Art Acevedo told local station KTRK that the officer in question had left the department when the post was made. It's unclear if the officer joined another department, was fired or resigned from his post. 

"We are still going to investigate who else was on there and make sure there are no other employees," Acevedo said to the outlet. "I want the community to be our eyes and ears."

On Monday (June 29), Bun B shared screenshots of a Facebook post allegedly made by former HPD officer David Nguyen wherein he compared Black people to monkeys.  

"Ok Officers Tee Truong, Vuong Vu and David Nguyen...you think it's funny comparing black people to monkeys?" We know you work in Houston at the Westside Command Station. Let's see what your commanders think about this," the "Still Trill" rapper wrote in the post's caption. "And the other Asians on this group chat in the comments? Keep that same energy. No apologies will do. Black people are tired being treated like animals!"

The HPD's investigation comes on the heels of several public officials coming under fire for racist posts on social media. Earlier this week, Harris County Sheriff's Office Sergeant Dan Kributr was fired on Friday after he made a post on Facebook wherein, according to KTRK, he said "Black criminals" were "freaking animals [that] need to be put down." 

Bun, a longtime activist, has been very vocal through the coronavirus pandemic and the ensuing protests and demonstrations over the police killing of George Floyd. Last week, he revealed that his son tested positive for coronavirus.