Footage Of Tekashi 6ix9ine's Kidnapping Leaks
The rapper can be heard pleading for his life as he's forced out of his car.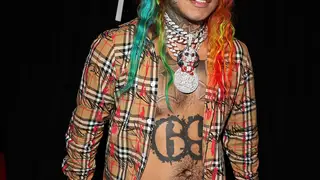 The long-awaited trial for Tekashi 6ix9ine's racketeering case has been underway for the past two days. After testimonies involving the Nine Trey Bloods gang, the 23-year-old rapper testified in court on Wednesday (September 18) about the 2018 kidnapping and robbery by one of his former friends-turned-antagonizer and Nine Trey Bloods associate, Anthony "Harv" Ellison.
Hours after Tekashi's testimony, a video of the harrowing incident has surfaced online.

In the dash cam video obtained by the New York Daily News, footage taken from inside the car shows Tekashi's ride coming to stop before he gets rammed from behind. Ellison and Ellison's friend "Sha" then show up and force Tekashi out of his ride at gunpoint.

"Harv, you know I'll give you everything. I put money in your pocket, bro. I'm scared, bro... I don't know... everybody is saying extortion this, extortion that," the Bronx native can be heard pleading in the video as the two men demand the 23-year-old rapper get into the car that they showed up in. 

Later, Tekashi's driver, Jorge Rivera, can be heard calling the police through OnStar to report that "my brother has just been kidnapped." Rivera attempts to tail the vehicle carrying Tekashi while he tries to get in contact with the authorities, but ultimately loses sight of the car carrying Tekashi. 

In court, Tekashi elaborated that, at one point, the car was pulled over where Sha allegedly pinned him down and threatened to shoot him.

"Sha pinned me down on the floor by my hair and he just kept hitting me," 6ix9ine testified yesterday. "Say you're not Billy! Yo, we should do this n***a right here." 

The "FEFE" rapper said he offered up all of his jewelry, including a Rolex, Cuban Links bracelet, four diamond rings, his Jigsaw chain, and $95,000 My Little Pony necklace, in exchange for his life. 

Tekashi recollected that he eventually made a run for it and escaped in a random car nearby at a stop sign whose driver dropped him off at a nearby police precinct. There, he said he received medical care and was then taken to a hospital for further treatment. 

It's the first time that Tekashi has opened up about the ordeal and what went down that night. The rapper is expected to take the witness stand for the third day in a row on Thursday (September 19).

We will keep you up to date on any further developments. See the kidnapping video in question 6ix9ine below and read more about his court testimony here.