Accused NYC Subway Shooter Frank James Wants To Move His Federal Trial To Illinois
Government officials and biased media coverage tainted the jury pool, defense lawyers say.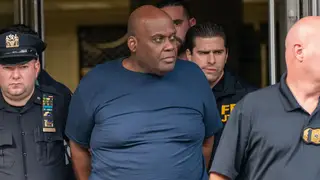 Attorneys for accused New York City subway shooter Frank James asked the court on Monday (Nov. 7) for a venue change, arguing in a court filing that he can't receive a fair trial in New York because biased media coverage and officials have negatively influenced potential jurors.
"Because of its demographic similarities, Mr. James proposes a transfer to the Eastern Division of the Northern District of Illinois, or another appropriate District in the sound discretion of the Court," the motion to transfer venue stated.
On May 6, a federal grand jury indicted James on one count of a terrorist attack and other violence on a mass transit system and one count of discharging a firearm during a violent crime.
Prosecutors allege that he boarded a rush-hour train on April 12, set off a smoke bomb and fired a gun several times as it approached the 36th St. station in Sunset Park, Brooklyn. Ten passengers were shot but all survived. A trial date is set for Feb. 27, 2023.
"My fellow New Yorkers, we got him," Adams said. "I cannot thank the men and women of the New York City Police Department enough."
According to the defense team, Adams' use of the words "we"  and "got him" was a message to the jury pool.
The motion alleges that the local media followed the lead of government officials and assumed James' guilt in their coverage. "Local media has repeatedly characterized Mr. James as a terrorist, a maniac, a raving madman and an unhinged nihilist obsessed with killing and hatred, none of which will be admissible," the motion stated.
As further evidence of a tainted jury pool, James' attorneys submitted results of a telephone poll conducted by Washington, D.C.-based Select Litigation.
The poll found that about 69 percent of people living in the Eastern District of New York said they were aware of the subway, and a majority, 57 percent, already made up their minds of James' guilt. By comparison, in Chicago, it was 38 percent.