Accused NYC Subway Shooter Frank James Indicted On Federal Charges
If convicted, he faces up to life in prison.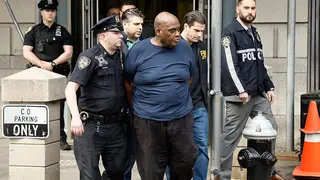 A federal grand jury on May 6 indicted Frank James, the man accused of opening fire on a New York City subway in April, on one count of a terrorist attack and other violence on a mass transit system and one count of discharging a firearm during a violent crime, CNN reports.
James, 62, faces a maximum life sentence in prison for each count if convicted.
Prosecutors say James boarded a subway train in Brooklyn on April 12, put on a gas mask, and ignited two smoke bombs as the train moved with unwitting passengers aboard. As the train pulled into a hub station in the Sunset Park neighborhood, he pulled out a gun and fired 33 shots, hitting ten people. No one died in the attack. He was unable to fire more shots because his gun jammed. The police arrested James the next day in Manhattan's East Village.
Authorities did not identify a motive for the attack, WPIX reported. However, James reportedly posted videos on YouTube in which he unleashes bigoted rants about people of various backgrounds. He also goes on a tirade against New York City Mayor Eric Adams in the videos and for receiving poor mental health care in the city.
A date has not been set for his arraignment.