Jordan Peele Drops The Official Trailer For 'Nope,' And It's Creepy
The writer and director is back with another film that promises to scare us all.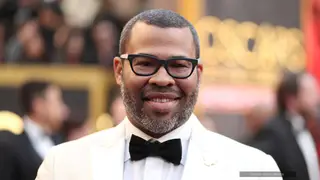 This summer is going to be very scary, thanks to Jordan Peele. The Oscar-winning writer and director is dropping his third horror film this July and from the looks of the first full trailer, it's going to be good...and creepy.
Cheekily titled Nope, Peele seems to be blending horror and sci-fi in his latest effort, which stars Keke Palmer, Daniel Kaluuya, and Steven Yeun. The trailer opens with Palmer's character explaining that she hails from the first Black man seen riding a horse in motion pictures and that she and Kaluuya run the only Black-owned horse training business in Hollywood. While the whole thing feels like a commercial for their services, things quickly take a turn when strange lights appear in the sky, throwing everything into chaos.
Though few plot details are revealed in this first full look at Nope — probably because Peele wants to keep fans guessing — the ominous trailer gives us just enough information to both intrigue and frighten us…and get us hype to head to theaters this summer.
In addition to Palmer and Kaluuya, Nope also stars Barbie Ferreira, Brandon Perea, and Michael Wincott. It will hit theaters on July 22nd.