'Basketball Wives' Star Has the Entire Internet Trying to Guess Which Married NBA Player She Had an Affair With
It's down to two legendary all-stars.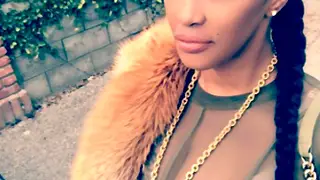 Monday night's episode of Baskbetall Wives didn't spare the drama as new cast member Saniy-yah Samaa made a splash on two occasions.
According to Bossip, after getting into it with fellow new addition Cristen for criticizing her looks — and calling her poor — Samaa revealed that she had an affair with "the top person in the NBA" who has three children. Now social media is playing the guessing game, trying to figure out who the baller could be.
"This was like the top person in the NBA," she said. "Me and him were cool. I would come to the games with him, sit courtside, front row, I was like a nice little arm piece for him — but did he have someone? Yeah. He had kids with her. So I'm not gonna say that he wasn't with her... He has three kids."
That's not all. After saying she "loved him," she admitted that she slept with the man in question the day before his wedding.
After Samaa boldly admitted to being a side chick, Basketball Wives head honcho Shaunie O'Neal spoke on her shady comments in a confessional clip.
"Let's just say I'm 99 percent sure I know exactly who this man is and, knowing that, girl, you were a homewrecker," she said.
Since the episode aired, fans have been racking their brains in an attempt to figure out who this famous All-Star could be. The names that are being tossed around the most are LeBron James and Allen Iverson. While both NBA icons are married, the former has three children, while the latter has five.
Likely, it will be revealed later on in the season exactly who she partook in the affair with.
See what Tami Roman had to say about one of her cast mates in the BET Breaks video, above.