Vigilantes In Haiti Having Impact On Rampant Gang Violence
Regular citizens are taking back the streets of the Haitian capital, human rights group says.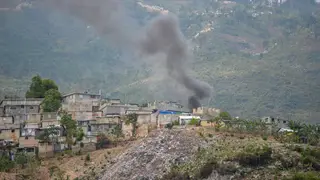 Vigilantes in Haiti killed at least 160 suspected gangsters over the past month, Reuters reports, citing data from local Haitian human rights research group CARDH.
The impoverished Caribbean nation has been overrun with crime since the assassination of President Jovenel Moïse in July 2021, as organized gangs increasingly use sexual violence and terror against people. They now control an estimated 60 percent of the capital city Port-au-Prince.
In April, the vigilante movement known as "Bwa Kale" took justice into their own hands and struck a blow against the gangs that rule Port-au-Prince. A mob of residents beat and burned to death at least 13 suspected gangsters after snatching them from police custody.
Since then, CARDH reports almost no recorded kidnappings and gang-connected murders declining from 146 in the first three weeks of April to 43 murders.
"Without making a value judgment, the 'Bwa Kale' movement has in just one month produced convincing, visible results; fear has changed sides," CARDH stated. "Both kidnappings and gang-related killings have fallen drastically."
The Caribbean nation reportedly has only 9,000 active police officers to handle a population of 11 million, leaving the Haitian National Police severely understaffed. The nation's military was only reinstated in 2017 after Moïse's government called for its intervention. It had been disbanded since 1995. Without a culture of security Haitian citizens began to take matters into their own hands, forming groups like Bwa Kale.

"…It's the result of years of violence towards a population who lacks everything and was just fed up," Haitian human rights activist Vélina Élysée Charlier told the Canadian Broadcasting Corp. She called what is happening the wrong road, but understood why people are angry and fighting back. "If you live in Haiti, you can consider yourself dead. So we might as well die fighting, you know?"
A United Nations envoy warned the U.N. Security Council on April 26 that conditions are increasingly dire in Haiti, urging the ambassadors to take immediate action.
"Time is of the essence, and the Haitian people deserve your urgent action. If not supported, the vicious circle of violence, political, social, and economic crisis, in which the people struggle every day, will continue to turn," U.N. Special Representative Maria Isabel Salvador told the U.N. body that is responsible for maintaining global peace and security.
But according to Reuters, countries have been reluctant to support Haiti's security and police forces, which are under the control of Prime Minister Ariel Henry's unelected government.
In the meantime, CARDH said the void is filled by vigilante groups composed of young people, including children.