LaVar Ball Makes It Official: LaMelo Won't Honor UCLA Commitment
The 16-year-old has reportedly signed with an agent to pursue overseas opportunities with brother LiAngelo.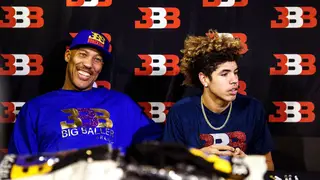 Well, that didn't take long at all.
After it was announced Monday that LaVar Ball is pulling son LiAngelo out of UCLA because he's unhappy with the basketball team's indefinite suspension of the guard following his shoplifting arrest in China, people wondered if the controversial hoops dad's youngest son, LaMelo, was going to honor his commitment to UCLA.
"I don't care about the money," LaVar told ESPN earlier today. "I want them to go somewhere where they will play them together on the court at the same time. The priority is for the boys to play on the same team."
He definitively added about LaMelo: "He's not going to play college basketball."
"If you're looking for one word I'd go with 'surprised,' because it's nothing that we saw coming," Bruins men's basketball coach Steve Alford told The Los Angeles Times of LaMelo's move to withdraw his commitment to the program.
This comes after LaVar yanked LaMelo from Chino Hills High School earlier this year to train and home-school him before doing the same with LiAngelo, taking him out of UCLA earlier this week.
Further forgoing their college eligibility, LaVar said that both LiAngelo and LaMelo have signed with agent Harrison Gaines, with sources telling ESPN that the Ball sons already have interest from several teams in Asia and Europe.
That being said, LaVar wouldn't divulge any further details.
"I don't know the deals and who is offering what," Ball told ESPN. "I'm letting Harrison handle all that, but I know there are a few teams interested. I just need to get them playing again."

Earlier in the week, LaVar reiterated his pipe dream of trying to get LiAngelo and LaMelo to team with their older brother, Lonzo, on the Los Angeles Lakers, but of course, that's as far-fetched as any of his boasts.
But what do you think about LaVar removing LiAngelo and LaMelo from their respective schools to pursue a possible opportunity for them to play together for an overseas team?
BET Sports News — Get the latest news and information about African-Americans in sports, including weekly recaps, celebrity news and photos of your favorite Black athletes.