Cory Booker Goes Rogue on the Obama Campaign
Cory Booker goes off-message on the Obama campaign's anti-Romney ad campaign.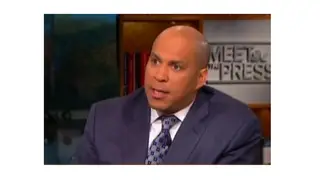 Newark Mayor Cory Booker has earned a reputation for being one of the savviest young politicians around, not to mention having a bit of a super-hero image. Perhaps it was a feeling of infallibility that led him to break one of politics' golden rules when he publicaly criticized the Obama campaign, for which he's a surrogate spokesman.
Booker, in an appearance on this Sunday's Meet the Press, said that he's "very uncomfortable" with the ad campaign that President Obama's re-election team launched last week aggressively attacking the private equity firm Republican rival Mitt Romney once led.
"If you look at the totality of Bain Capital's record, they've done a lot to support business, to grow businesses. And this, to me, I'm very uncomfortable with," Booker said.
Romney wears his business record like a medal of honor and says it's the reason he is best qualified to be president. The Obama campaign has sought to define Romney as the opposite of the job creator he claims to be and more like a corporate raider who sucks the life out of businesses and communities, while he and his Bain buddies make millions.
"This kind of stuff is nauseating to me on both sides. It's nauseating to the American public. Enough is enough," Booker said. "Stop attacking Jeremiah Wright. This stuff has got to stop because what it does is it undermines, to me, what this country should be focused on."
Republicans jumped on Booker's criticism with glee. The Republican National Committee sent out an email blast almost immediately featuring a video clip of Booker's remarks. It also has started a petition called "I Stand With Cory: Don't Let the Obama Campaign Silence Support for Job Creation."
Booker tried to backtrack on his comments via Twitter on Sunday.
"So I'll clarify my comments on MTP. Yes, Obama must be re-elected," he tweeted. "But we as a Nation owe it to him & ourselves 2 reject politics as usual."
He also produced a four-minute video in which he expressed "profound frustration with the kind of campaigning that I think is becoming too much of the norm," but that wasn't good enough for the Obama team. The campaign tweeted a 35-second version of his TV appearance in which Booker says he would encourage scrutiny of Romney's record.
BET Politics - Your source for the latest news, photos and videos illuminating key issues and personalities in African-American political life, plus commentary from some of our liveliest voices.  Click here to subscribe to our newsletter.