Bill Cosby Is Not Going to Jail Anytime Soon
The TV icon has been arraigned on sexual assault charges but won't see a cell.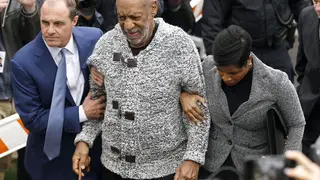 After watching his empire and reputation crumble before his eyes over the past year, Bill Cosby finally had his day in court. Unfortunately, it probably didn't go the way he wanted. The TV icon was arraigned on criminal charges for sexual assault on Wednesday afternoon. The charges stem from an alleged 2004 attack on Temple University employee Andrea Constand.
Cosby was charged in Montgomery County, Pennsylvania for aggravated indecent assault, which is a second degree felony. Cosby faces three counts of the indecent assault charge: assault without consent, assault when the complainant is unconscious or unaware that penetration is occurring, and assault when the person impairs the complainant.
Wearing a gray hoodie and carrying a briefcase and cane, Cosby walked into the courthouse accompanied by a man and a woman. In court, he was read the charges and asked to surrender his passport. After the arraignment, Cosby posted 10 percent of his $1 million bail in cash and was free to leave after fifteen minutes.  
Earlier today, Constand's attorney Dolores Troiani shared her gratitude for the charges. "Obviously we appreciate the expression of confidence in her," Troiani says of Constand. "We'll have to see what happens. We hope justice will be done. We will cooperate fully." Constand attempted to press charges one year after the alleged attack, but prosecutors declined to pursue the charges at the time.
This is the first, and — so far — the only criminal charges Cosby has faced after more than 50 women accused him of rape and sex abuse. Only time will tell if they'll be the last. While it doesn't seem likely that Cosby will see the inside of a prison cell, the charges certainly validate the stories of the dozens of women who claim they were drugged, assaulted and even raped by the comedy icon. Cosby is also involved in several lawsuits and countersuits with other accusers whose statute of limitations to pursue charges has run out.
Watch a rehash of the Cosby scandal above.
(Photo: AP Photo/Matt Rourke)

BET.com is your No. 1 source for Black celebrity news, photos, exclusive videos and all the latest in the world of hip hop and R&B music.