No Pics Pls! See Rihanna's Sexy Dirty 30 Slay That She Did Not Want Us To See
Happy birthday! Rihanna celebrates her 30th with family and close friends. 30, flirty, and thriving!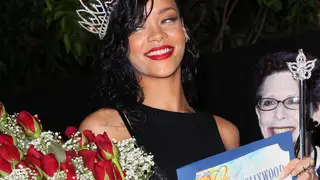 Yesterday, Rihanna wanted to celebrate her 30th birthday the most low-key way ever, and we can't help but be hype!
Bringing in her new decade at The Grille in New York City, the dinner was extremely private, with the guest list only holding Rih's closest friends and family including her mom, Monica Braithwaite, niece Majesty and bestie, Melissa. Along with celebrity friends including Paris Hilton and the recently engaged Toni Braxton.
With guests asked at the door to place their phones in pouches, there are no photos available from the party, but we did get a glimpse of Rihanna being chauffeured to her birthday bash! 
According to Haus of Rihanna, RiRi is photographed wearing a purple YSL puffy strapless dress from their Spring 2018 collection.
Here's the look on the runway:
Is there anything this girl can't wear? We'll wait.
Just more receipts that it's ugly until Rihanna decides it's not!