Watch The Trailer For New SHOWTIME Rick James Documentary, 'B*tchin': the Sound and Fury'
The new film covers the good, bad and ugly from the life of the 70s and 80s R&B and funk icon.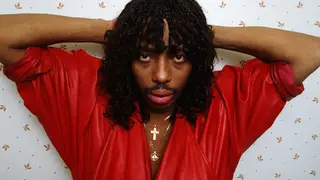 "I'm Rick James, b*tch!" "F**k yo' couch!" and "What did the five fingers say to the face?" are all hilarious lines from Dave Chappelle's "True Hollywood Stories" sequence from his ingenious sketch show that recounted real events. 
But what if SHOWTIME decided to come out with a documentary officially recounting the actual life and times of the late great funk artist, officially?  
That's right, the legacy production studio released the trailer for B*tchin': The Sound and Fury of Rick James Tuesday, which is set to give viewers an indepth look at the good, bad and ugly of Rick James. 
"I want to be nasty, and I want to be raw," says the inventor of punk-funk in the two-minute clip.
Originally premiered at the 2021 Tribeca film festival in June to critical acclaim, this effort is different from the music biopic, true crime series Universal Studio Group's UCP was reportedly working on last year called Super Freak.
Directed by Emmy-nominee and hip-hop journalist Sacha Jenkins ("Wu-Tang Clan: Of Mics and Men"), the film hopes to portray the life of the embattled late superstar in his entirety and uses archival interviews with James and commentary from celebs like Ice Cube and Bootsy Collins ("All's fair in funk and war," he shares) among others to do so.  
James, who died in 2004, was unabashed and unashed about his life of sex, drugs and rock and roll, which often overshadows his musical legacy and influence. This doc gives the singer his due, illustrating how he brought funk to the mainstream, his early days in Canada and how he, along with with Michael Jackson, broke the color barrier on networks like MTV that were dominated by white artists at the time. 
Watch the premiere on September 3 on SHOWTIME.