Afrobeats Megastar Davido's Three-Year-Old Son Tragically Drowns In Home Swimming Pool
Police have taken eight staffers into custody for questioning.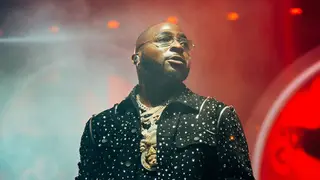 Afrobeats megastar Davido and his fiancée Chioma Rowland are overwhelmed with grief after the death of their 3-year-old old son, Ifeanyi.
According to BBC, toddler'ser's body was found at the bottom of the swimming pool of his home in Lagos State, Nigeria, on Monday night. Ifeanyi was rushed to a local hospital after being submerged underwater for an extended period of time. Ifeanyi was pronounced dead at the hospital.
Davido and Chioma have not released a statement regarding their son's death, and Lagos State Police are investigating what lead up to Ifeanyi's drowning.
Eight staffers at the home were taken into police custody for questioning.
Police spokesman Benjamin Hundeyin told the publication that a staff member called the authorities late Mond"y.
"We are reviewing the CCTV cameras to get additional information about the circumstances of his death," Hundeyin said. "His body has been deposited in the morgue. We are in touch with his parents. In fact, they were with us last night."
As news of the boy's death circulated online, fans and fellow Nigerians shared their condolences and prayers.
On October 20, the "Electricity" artist and Chioma celebrated Ifeanyi's third birthday and shared touching posts on their respective Instagram accounts.
"I pray with all my heart that God grants you perfect health and pure happiness for as long as humanly possible. You will grow to be greater than Me. Happy birthday, son @davidifeanyiadeleke !!! #BIG3 🎂🎂🎂🎉🎉🎉"?," Davido wrote.
Chioma wrote, "Happy birthday to the love of my life. Mummy loves you so much. May God always bless you for me. God has been so faithful to us, and I'm so grateful to be called your mummy. May you be greater than your parents in Jesus' name, amen. Love you,​​ twin! #big3"
Davido has two other children.
Our prayers go out to their family.