Iconic!: Regina King's Oscars Gown Reportedly Took 140 Hours To Make And Features Over 4,000 Crystals
See the v-neck gown that's dropping jaws.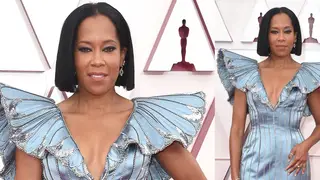 Regina King stole the night at the 2021 Oscars on Sunday! Arriving on the red carpet in a stunning Louis Vuitton gown, all eyes were on the award-winning actress as she made her grand debut. 
Joining a select group of celebrities in attendance, King beautifully social distanced with a custom evening dress featuring dramatic winged shoulders.
According to E! News, Regina's gown "took 140 hours to make and is embroidered with over 62,000 sequins and 4,000 crystals." 
The star's stylists, Wayman and Micah, humbly revealed that their client was very involved in the design process of her red carpet look. She even reviewed sketches! 
"We tell her our vision and what we want the story to be, and then we build from there," the duo explained about the glamourous look accompanied by $1.2 million worth of Forevermark jewelry. "We approach it from a fashion standpoint and she approaches it from a technical standpoint with a director's eye."
To complete her look, King opted for a sleek bob styled by Larry Sims. Stunning!