R. Kelly Federal Trial: Jury Selection Involves Dismissal Of Jurors Who Said They Would Have Trouble Being Impartial
Jury selection began on Monday.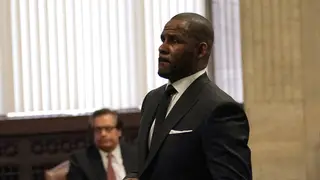 Jury selection in R. Kelly's Chicago federal trial began Monday (Aug. 15) and continued Tuesday with the judge questioning more than 60 potential jurors about what they know about the R&B singer and the charges he faces.
According to The Chicago Tribune, 34 jurors made it past the first round of questioning by the end of the day. The total is around six shy of where the judge said he wanted to be before moving on to the next phase.
Kelly was reportedly brought into the large ceremonial courtroom at the Dirksen U.S. Courthouse and sat at a crowded defense table.
Out of the 63 people questioned via a written questionnaire by the judge over nearly six hours, a total of 29 were dismissed, most of whom noted they'd have trouble being impartial to Kelly or his co-defendants.
The Tribune reports that U.S. District Judge Harry Leinenweber dismissed everyone who expressed even the tiniest doubts about their impartiality. "Thinking about the case and the charges over the weekend, I no longer firmly believe that I can be unbiased," one woman said at the outset of the questioning before Leinenweber promptly excused her.
Another woman informed Judge Leinenweber that her job involves advocating for children. "I would do my best to be fair, be impartial. My only concern would be the defensiveness side kicking in, perhaps," she said before Leinenweber excused her.
Leinenweber previously stated he wanted a pool of at least 40 people before moving to the next phase, when both prosecutors and defense attorneys will use measures to further thin the panel.
Opening statements could start as early as this week.