Edge Control: We Asked Hair Experts Exactly How You Should Sleep
Team Bonnet vs. Team Scarf.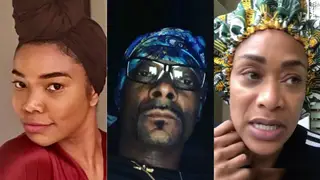 When it comes to hitting the sheets, you can pretty much guarantee whether we are sleeping alone or with a — *ahem* — guest, one thing is for certain: our hair is protected! While it might not always be sexy, a good night sleep should never interfere with a good hair day, OK?!
However, the biggest debate is whether your best bet is to wear a scarf or bonnet to bed — and we wanted to get to the bottom of it. We spoke to Schwarzkopf Celebrity Hairstylist Larry Sims and licensed cosmetologist and IAT-certified trichologist Sophia Emmanuel of Crown Worthy in NYC to give us some tips about keeping our strands under wraps for real. 
First things first, your choice of style ultimately affects your hair's health and appearance. "I recommend that you avoid wearing hairstyles that cause tension on the hairline such as tight braids and hair extensions overall," explains Emmanuel.
"Do not sleep with head scarves or bonnets that are tied too tight or rub against the hairline because this can cause hair breakage and hair loss," she shares. "For straight, smooth or flat hair styles like cornrows, I recommend a head scarf."
The catch? "If you wear your hair in a textured hairstyle, like a Flexi Rod set, twist out or other voluminous hair styles, I recommend a bonnet because it will not flatten your hairstyle too much."
Sims, the stylist behind Gabrielle Union, Zendaya, Tracee Ellis Ross and Mary J. Blige, recommends Smooth N Shine Edge Control to keep your hairline laid and moisturized.
"I love how strong the formula is and holds any style in place, and I always tell my clients to pin their curls to keep them intact and wear flat wraps, which helps hold a style without creases," he shared with us. His preference? "I prefer silk bonnets and scarfs as they won't break or crease the hair, more protect it," he explains.
Still not convinced? See below for a few of your faves from Snoop Dogg to Porsha Williams making their official declaration of whether or not they are Team Bonnet vs. Team Scarf.