Soul Train Awards 2023: Fellas Flossin' on the Red Carpet
Whether pushing their personal style or following current trends, these men broke all the rules at this year's show.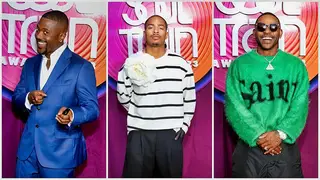 It might have been chilly outside, but the men at the Soul Train Awards 2023 kept everything hot, hot, hot as they posed before the show's celebration of R&B and hip hop. Some followed the current trends, while others marched to the beat of their own drums. Either way, these fellas proved that fashion comes in all incarnations and range from simple and classic to bold and colorful. 
Here are some of our favorite fellas doing their best poses on the step and repeat.
David Banner

Roses are red, violets are blue, and David Banner came to Soul Train to put a spell on you! Here the rapper/actor wears a red and blue flower motif shirt with black rimmed glasses, a fedora trimmed with a red velvet ribbon, plus his signature smile.

Ray J

Blue is definitely Ray J's color. This borderline navy suit with a white button-down shirt is both professional and classicly sharp for the night's event.

Dante Bowe

As a member of Maverick City Music, Dante Bowe is used to the glam of the carpet but always puts his faith first. Tonight, he threw caution to the wind in a bowl hat with ears, a burnt orange-striped jacket and jeans, completing the look with a single black tie.

Kenny Burns

Kenny Burns is an entrepreneur, producer, trendsetter, author, brand developer, marketer, mentor, and motivational speaker. He forgot to add fashion dominator with this drip tonight as he rocks dark, ombre shades with a black and white houndstooth jacket.


Eric Bellinger

Eric Bellinger leaves us green with envy with this SAINT MICHAEL Men's Green Crewneck Knit sweater that's not only going to keep him warm but also reminds us why we love his music. Consider it our new "Obsession."

Arin Ray

Arin Ray is both an artist and a songwriter, having written several hits for Chris Brown, Nicki Minaj, John Legend, and more. Tonight, he hits the step-and-repeat carpet wearing a statement flower on his black and white striped shirt.

Fridayy

Singer/rapper Fridayy is keeping it all the way Philly at tonight's Soul Train Awards. Before he takes the stage, he rocks a brown Athleisure suit with baby blue piping, mixing two colors that we never knew would work so well together.


"Soul Train Awards" 2023 premieres Sunday, November 26 at 8 p.m. ET/PT on BET and BET Her.