Listen To Naya Rivera's Terrified Husband In A Crazy 911 Call: 'My Wife's Out Of Control'
Ryan Dorsey is clearly scared.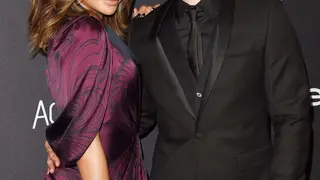 Naya Rivera was recently arrested after her husband, Ryan Dorsey, called the police in a panic claiming she was "getting physical" with him while they were out. Now, audio from his 911 call has been released, and it shows just how intense the situation got between the two.
See what Big Sean, Naya's ex, was gifted by his new lady with BET Breaks, above.
TMZ obtained the recording of the call taken in Chesapeake, West Virginia, in which Dorsey claims that the former Glee actress was "out of control" in a frantic and terrified tone of voice.
He also can be heard saying in the recording that she was "getting physical" before adding that his father was present with them. He did mention, though, that she only got physical with him — not his father. Before the operator could extract more information from the actor, the call dropped, but it could later be heard that the caller (Dorsey) mentioned that his wife had been drinking.
Listen to the call, below:
Rivera was arrested for domestic battery following the call for allegedly beating Dorsey and busting his bottom lip. The disagreement reportedly stemmed from an argument the couple was having over their child who is, however, not mentioned in the 911 call.
The actress was arraigned and released on $1,000 bond, and Dorsey did not require any medical attention for his injury.