Jussie Smollett Reveals What He Thinks Of Dave Chappelle After He Made That Now Infamous 'Juicy' Joke
The actor also says he has seen the comedian in-person.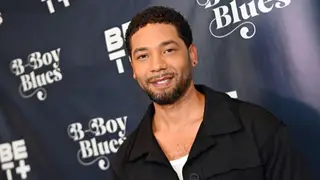 Jussie Smollett is currently promoting his new film B-Boy Blues, which is currently streaming on BET+, and in a sit down with Sway at SiriusXM, he revealed has seen Dave Chappelle since the famous "Juicy" joke.
Sway brought up the "Juicy" joke and the actor immediately began laughing. He said, "What's so funny is that my nickname growing up was 'Juicy.'"
He added with a pause, "That's a special situation, I don't know how much I should say about that… I will say this, I have seen Dave since." He also joked he didn't run up on stage, referencing the individual who attacked Chappelle at the Hollywood Bowl in May.
Smollett did not reveal the details of what was said between himself and Chappelle.
In Chappelle's 2019 Netflix special, Dave Chappelle: Sticks & Stones, he joked about Jussie Smollett being accused of staging a hate crime and referred to him as "Juicy."
Jussie Smollett also opened up about his interview with Robin Roberts in 2019, appearing to insinuate he did not want to do the interview and it was a request from his team at the time, "I love and respect Robin Roberts but I did not want to do that interview. That interview wasn't for me, that was for my character."
He explained, "I was so angry, I was so offended that I had to go on national television and explain what had happened to me." Smollett also said while everything he stated in the interview with Roberts was true, he was uncomfortable being "associated with people who had been attacked" because of his own struggles with internalized homophobia.
Smollett said he was trying "to represent all of us that had been assaulted based on who we are... but I also didn't wanna be associated with people who had been attacked."
He continued, "I'm genuinely sorry to say this... I felt like I just became a f***** that got his ass beat or at least I felt like that's what people saw me as. And so, I was trying so hard to, like, the posturing of, he hit me and then I hit his ass back and I was just like, 'Oh my God... You look ridiculous.'"
After being found guilty of staging a hate crime in March, Smollett was briefly behind bars but his lawyers successfully argued that he should be released pending the appeal of his conviction, according to the Associated Press,
Jussie Smollett has maintained his innocence.
See his interview with Sway below: