Pregnant Abby De La Rosa Opens Up About The Bond She's Built With One Of Nick Cannon's Baby's Moms!
The social media influencer tells her OnlyFans subscribers about her compassion for her children's siblings.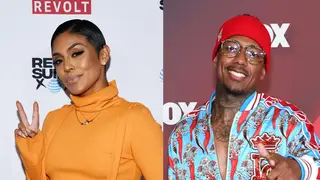 Pregnant Abby De La Rosa told her OnlyFans audience that she had developed a close connection with one of Nick Cannon's four other baby's mothers and wishes the moms 'the best.'
"We've had so much fun going out to dinners and Coffee"  De La Rosa talks about how she and the other mom keeps in close contact with each other. According to Page Six, it is unclear which one the DJ met, but De La Rosa speaks on how lively and entertaining it was to spend time with the woman.
Nick Cannon recently teased in his interview with Lip Service that he is now expecting another baby at the end of the year. Speculations arise wondering if it's De La Rosa's after she spoke about expecting a girl on October 25th.
Angela Yee, Gigi Maguire, and Stephanie Santiago, the co-hosts of the Lip Service podcast, chimed in and anticipates the possibility of the Wild-N-Out host carrying more children in late fall after his comments about how he dealt with the loss of his late son Zen's passing.
"I got depressed with the loss of my son. The thing is, everybody saw I was so down. So everybody was like, 'Let's just give him a little vagina, and that's gonna cure it all.'" Nick Cannon explains and then later teases the likelihood of three (You heard it) children on the way.
"Let's just put it this way … the stork is on the way."