Watch: Pharrell on the Challenges Black Women Faced in the 1960s
Plus, Kevin Costner and Jim Parsons.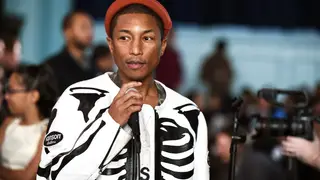 Pharrell Williams wrote and produced the music for the upcoming blockbuster film Hidden Figures, but his passion for the project extends beyond the music — he is also invested in its story. 
The musician spoke to us about how tough it was for those three trailblazing Black women back in the 1960s, a time when both racism and sexism was at an all time high.
"Speaking of Hidden Figures, this was very tough for those women back in the 1960s," he said. "They were in the 1960s operating system where the matrix was much heavier and much more taxing and tolling on African-American women. The gravity, the physics of the African-American male in the '60s was tough, but for women, on top of that, was twice as hard."
Another of the film's stars, Kevin Coster, also touched on the concept of humanity and why simply helping others goes a long way.
"The reality is, it's amazing what human beings can do for other human beings and it's so equally amazing how we can hurt with the slight, with holding down, shutting the door," he said. "She almost didn't get in the door to see her greatest accomplishment... Our ability to tear down is just as easy as our ability to build up so why not go to the light, if you will?"
He ended his statement with these powerful words: "We have a chance to build people up. We have a chance to tear them down. It's like, who do we want to be?"
Take a look at the video, above.