Nicki Minaj Makes Peace With Hot 97 DJ Peter Rosenberg
YMCMB rapper and radio personality squash Summer Jam beef.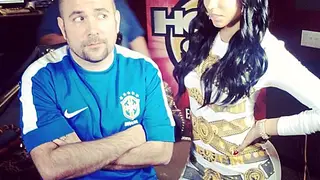 It took them nearly a full year, but Nicki Minaj and Hot 97 personality Peter Rosenberg have finally, sort of buried the hatchet.
Minaj famously pulled out of her headlining spot at Hot 97's Summer Jam last year after Rosenberg blasted her music.
The radio personality took particular issue with the rapper's single "Starships" off her Pink Friday: Roman Reloaded album. In his view, Minaj's crossover into the pop genre didn't warrant her a spot on the Summer Jam's hip hop lineup. In response, the Young Money signee followed the instructions of Lil Wayne, and walked just hours before she was to take the stage.
With program director Ebro Darden brokering their truce this morning, Rosenberg said that lashing out at Minaj made him more "poppin,'" before explaining the verbal attack. "I dissed what was the most mainstream song at the time," he said, pointing out that the Queens MC was not a specific target. "When I get back to the stage Ebro goes 'Yo did you say something about Nicki?' I literally didn't remember it!"
The show and Rosenberg's comments were streaming online, as well as on Minaj's website. "I am sorry that things went as left as they did," he added after joking to lighten the mood. "I never had any ill feelings towards you as a human being, ever. I never would ever have dissed you in any personal way besides my distaste for that song."
Looking unamused, Minaj mostly kept a straight face before muttering, "It's cool." Then she had a moment of reflection. "In hindsight, I should have just done the show," she said. "I wish I would have come out. I apologize [to the fans] for not doing the show."
She then added a bit of her signature Minaj shade. "I get it, that's what you do," she told Rosenberg. "I guess to me, I just don't know your resume. I never found you funny, I never found you entertaining, I never found you smart … I just found you annoying.
"I grew up in New York, I've grown up on Hot 97, I know Angie [Martinez], I know [Funkmaster] Flex, and [DJ Mister] Cee, and all these people. Whether they like me or whether or not we get along, I just know their resume," she explained. 
An awareness of said "resumes" is what led Minaj to call into Funkmaster Flex's show following the original incident to address Rosenberg's critique. "With you I was just like, 'Who are you?'," she continued. "To me, you don't have enough of a resume to make those comments, but you did and you know, it is what it is."
With 16 years of radio experience to his name, Rosenberg took the scolding like a true professional. Minaj eventually let her guard down a bit, but it's safe to say that the "Starships" diss penetrated her usually thick skin. "My whole career has been a playing field for me to try new things. I never put a limit on myself, and I don't like when — especially Black women — put a limit on what they can do."
To Minaj's credit, redefining the female rapper career path has worked out well. Since dropping Pink Friday in November 2010, the 30-year-old has blossomed into a full blown celebrity powerhouse. In the last year alone, she's released a fragrance, inked a clothing line deal with K-Mart, held a one-season stint as American Idol judge and landed a film role  alongside Cameron Diaz. She's also doing well financially, upping her net worth to the tune of $25 million.

(Photo: Instagram via Nicki Minaj)