WTH?: Black Women Are Using Vicks VapoRub To Restore Their Edges
But is it safe though?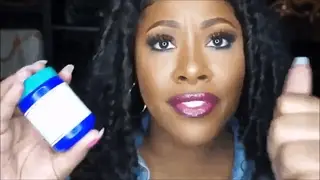 Black women are serious about their edges and have found some off-the-wall methods for restoring them. 
Whether they work (or not) is highly debatable, but you can always count on the YouTube community to try the latest buzz-worthy methods. Apparently, the newest beauty "trend" that's gaining momentum is Vicks VapoRub ($4.99) for sparse edges.
Yes, you read that correctly — the kind your grew up having your mama rub all over your chest when you had a cold. Receipts below: 
Rumored to give significant hair growth in the average of 30-60 days, women are eagerly hitting up social media to give rave reviews using the drugstore staple. 
Atlanta resident Jocquelyn Hill, who shared her love for the product on her YouTube channel, Just Jocq, back in March 2016, sent no-edge sistahs into a frenzy with her discovery. There are now more than 35K videos that can be viewed on YouTube highlighting the new found use of Vicks. 
And the love for cold-busting jelly just doesn't stop there. Now more videos are popping up. Watch for yourself:
It does leave many wanting to know one thing: Is the product, which contains menthol, eucalyptus, camphor and petroleum, actually safe?
When Essence asked professional dermatologist Dr. Carlos Charles if he heard of the method working with people of color, he shared he hadn't. 
"While Vicks VapoRub is generally safe, a brief look at the ingredients list several oils that could potentially cause allergic or irritant skin reactions, as with any topically applied product," Dr. Charles warned.
We have to agree with Dr. Charles here. But would you still dare to try it?