Rob Kardashian's Surprising Response To Blac Chyna's Theme Park Brawl Might Piss Off His Family
They reportedly have concerns over baby Dream's safety.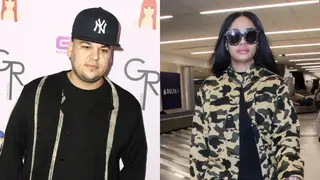 So far, that's not the case. Chyna's legal team reportedly told Metro.co.uk that they have "not received any correspondence from Rob or his lawyers concerning our legally binding parenting agreement."
"To the best of my knowledge," one attorney said, "there are no changes in custody to discuss at this time."
Rob and Chyna share 1-year-old daughter Dream. On April 1, BC was caught on tape engaged in a fight with a woman at Six Flags during which she threw a child's toy car at a woman who she claimed kept touching Dream's hand.
Subsequently, Chyna was held back by several people. Various videos of the altercation have been shared online.
Rob Kardashian did react to the incident. A source close to the Kardashians told Hollywood Life that he was "horrified" after watching the footage.
Last year, Kris Jenner reportedly urged her son to try to gain full custody of his daughter after he and Chyna had some bad run-ins with one another. This latest incident has to be pushing her even closer to the edge.