Sy'Rai Smith, Brandy's Daughter, Says Her Mother Will Executive Produce Her EP
CJ Wallace and Tron, from the 'Family Legacy' cast, also chat about their favorite albums and records from their parents.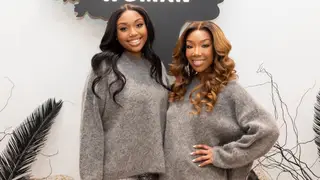 Some of the biggest names in music have had monumental moments and a legacy that will live on through their children.
MTV is gearing to premiere a new docuseries called Family Legacy, which will "feature the children of legendary music artists and bands including Linkin Park, Van Halen, Backstreet Boys, *NSYNC, Boyz II Men, TLC, Biggie Smalls, Sean "Diddy" Combs, Brandy and Melissa Etheridge reliving some of entertainment's most iconic moments and giving viewers an intimate look at their favorite artists". The series will be narrated by Quincy Brown, who also appears in one of the episodes.
In an interview with BET.com, CJ Wallace, the son of Biggie Smalls and Faith Evans, Sy'Rai Smith, the daughter of Brandy, and Tron, the son of Dallas Austin and Chilli of TLC, chat about their upcoming projects, their favorite records and albums of their parents, and which record they would like to recreate from their parents' catalog.
BET.com: What's the coolest thing you've ever seen your parents do?
Sy'Rai: The coolest thing I've seen her do was becoming Roxy on Broadway – that was one of the best things (to me) that she's done in her career. I wasn't able to see her perform as Moesha or Cinderella because I wasn't born, but I was able to see her play Roxy every night and that's when I knew my mom was an all-around entertainer.
Tron: I would say it would be between two things – anytime they are on stage and interacting with the crowd, like the intimacy, and when they pay tribute to [Left Eye] where fans begin to put their phones in the air. When I see that kind of fan base, and being an artist myself, it's aspiring as I continue to make my own lane. The second one is when I was growing up and we would get stopped so people can take a picture with [Chilli] and sign autographs to the fans because those are the people who make your career in the first place – without them, you're nothing.
BET.com: Is there any artist you would've loved to see your Pops collaborate with?
CJ: I think this was supposed to happen and I think about this all the time – there was a moment in time when my pops was supposed to work with J. Dilla, who is my favorite producer. I think about Biggie being on a record with Jamiroquai, or if he had written a verse for Rihanna or Beyoncé. I see pictures of him and Aaliyah wishing they did a record together – him and Tupac had they not had an issue, they could've made an album together. Even the idea of how him and Jay-Z were thinking about forming a group together with "The Commission," so the list goes on. For newer artists of this generation, I would choose Kendrick Lamar, Drake, and J. Cole – all of them.
BET.com: Brandy is known as the vocal bible and you sing in your own right — are there any expectations you feel have been put on you as you find your own lane as a songstress and prepare for your EP?
Sy'Rai: There is a lot of pressure because we have such big names on our backs and to carry that amount of pressure to execute the expectation from everyone else – everyone says I sing like her and I look like her which is something I love. I love to prove people right and show them I do sound like her and look like her, but it's hard because even with no music of mine out yet, which comes out in [May], it's hard for people not to compare us. I wouldn't want to be compared to anybody else but it can be difficult for people to differentiate us because I've always been known as Brandy's daughter so to create a persona for myself and not be tied to her may be a bit difficult. The themes in my music will be more mature and people won't be ready to see me as an adult as I go through real stuff. I'm excited for people to see what I'm creating but also scared as I've seen my mom go through a few things I don't want to go through [laughs].
BET.com: You share all the similarities like your father — what's a difference you would say between the two of you?
CJ: That's a really good question – one of the biggest differences is he was a bit more vulnerable than I am. His ability to go and perform on stage every night while being honest in his records  – I'm not as much of an open book as he is. I'm comfortable on camera, like I've acted in movies and television – acting is where I can be someone else and I think, for him creating the Notorious B.I.G., was sort of his alter ego. I would say he was a Scorpio, and I'm a Gemini, I was raised in LA and he was raised in New York so that's a difference in itself. I can say though, we are very similar.
BET.com: What's your favorite Biggie record and Faith record?
CJ: 'Used To Love Me' is my favorite Faith record while my dad's changes every day. Right now, I'm feeling 'Sky's The Limit.'
BET.com: Your first commercial was with Chilli and it was for a Dasani commercial, where you earned a huge check. Understanding the financial struggles TLC went through, did your mom teach you anything about money management?
Tron: I received a little bit of it and I think I went to Toys R Us where we bought a bunch of stuff. That money went into savings and I try to build up because with the little exposure as a child and becoming an artist, it pushed my personality to evolve into my own thing. When you're in entertainment, and unless you have other business ventures, you're going from one thing to the next thing so you have to make that money count. Even when the label fronts you a lot of money, you're in debt and now you're spending it on Lambos, Cuban Links, purchasing houses that are too big – between the both of us, we know a lot of stuff. We understand the ins and outs and to this day, I try to help others who are aspiring artists and tell them things that maybe they wouldn't have been told otherwise because it might dictate their life in a different direction.
BET.com: You're drumming with TLC soon on tour — how has that process been for you and are there any challenges you faced while preparing?
Tron: I'm a perfectionist with the art that I make or when it comes to drumming – I'm going to work with the band 1000x and working on my off time. Time management is the biggest thing because I'm an artist as well so I'm working on my projects while performing with them. It's an honor and they are legends so as soon as the show starts, that's not my mom anymore – that's Chilli.
BET.com: Is there a song of your mom's from her group that you would recreate and add a modern twist to, which record would it be?
Sy'Rai: There were talks about me doing 'The Boy Is Mine' with another artist so we're still trying to piece that together. I love 'Afrodisiac' and I would love to recreate it. Snoop Dogg's daughter, Choc, covered the record and I reached out to her to tell her we could redo it, let's get this going [laughs]. My personal favorite is 'Full Moon,' too. It's in my range as well.
Tron: Good question bro – I would redo 'FanMail,' which Drake already redid and I felt what he was doing with the melodies. My favorite song of TLC's is 'Creep,' but I don't know if I could do the recreation as it's a girl song but I would have to reverse it [laughs]. So 'Fanmail' first and maybe 'Silly Hoe' as my second option.
BET.com: What would you say is your parent's best album?
Tron: I would say CrazySexyCool.
Sy'Rai: I'm going to say Full Moon because she was pregnant with me during that time and I'm biased – but then also, I was on B7 and that's a good album, too. But I'll go with Full Moon.
BET.com: If you had the chance to ask your Pops any question — what question would you ask him?
CJ: I would ask him what made him and my mom get married so quickly [laughs]. I think they were married in less than a month – I would never do that [laughs]. I guess it was different back in the day and they didn't have social media to do a full investigation on someone before you meet them. Meeting someone was a big deal especially if you were attracted to that person, you had to be obsessed with them and hunt them down to get the number. It's a beautiful love story at the end of the day, but it's just crazy to me.
BET.com: What's the sound and feel for your forthcoming project?
Sy'Rai: Every R&B artist is different, but we all have something very much in common where we hear things, recreate them, and put it into our music. I've heard a lot of influence from people like TLC, Brandy, Mary J. Blige and everyone who came from that era. Everyone's favorite singers were our parents so for us to come from them, we're the only ones that can recreate it and not sound like a copycat. I've seen my mom in the studio all my life and I'm a perfectionist like her so it has to sound correct. I stack like crazy – a lot of melodic, driven music because I love melodies. I have that Brandy sound that people try and get – I can do it and it's in my genes to be like her. Not trying to be copied but people call me the "New Testament" so people will be very surprised by what I'm coming up with.
BET.com: Will Brandy be on the project?
Sy'Rai: Of course, she's the executive producer of the project – she's vocal producing the whole EP.
You can now stream all the episodes of Family Legacy on Paramount+! 
---
*This interview has been edited for length and clarity
Ty Cole is a New York-based entertainment reporter and writer for BET.com who covers pop culture, entertainment, and lifestyle. Follow his latest musings on Twitter @IamTyCole.