'Queen & Slim' Star Jodie Turner-Smith Defends Blue Ivy Carter Against Vicious Twitter Attack
Beyoncé and Jay-Z's daughter was getting unwanted attention for her looks.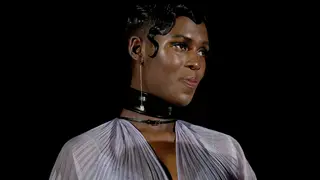 The new year gives everyone an opportunity to start fresh and target goals they may have otherwise not focused on in previous months. Jodie Turner-Smith not only has a resolution but believes everyone should be on board with it.
Via Twitter, the Queen & Slim actress shared a disgusting tweet made by Vanity Fair film critic K Austin Collins in which he says Jay-Z's "face genes" will take away from his daughter Blue Ivy Carter's beauty soon.
When someone replied, questioning that they "haven't already?" Collins went further and said Blue Ivy may be going through an "ugly duckling phase."
"You're right," he wrote. "But she's lucky –– if it happens now she'll definitely grow out of it. Get the ugly duckling phase done early."
Turner-Smith captioned the exchange with a perfect response. "Leave Black Girls Alone In 2020!" she tweeted. "Black features are beautiful. Black skin is beautiful. Leave Us Alone. keep your hatred to your damn self in this decade."
Others joined her in condemning the sexist remarks. "It's so pathetic," one person replied. "This is painful," another commented. 

Replies to Collins' own tweet included calls for him to be fired, among other reasonable demands.

It's 2020, can we leave hate behind in the previous decade?