Spike Lee and Tonya Lee Lewis Relationship Timeline
The couple got married on Oct. 2, 1993, and have two children.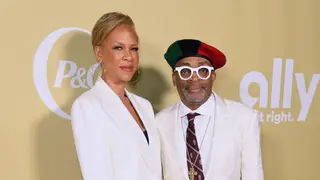 Spike Lee and his wife, Tonya Lewis Lee, have been married since 1993 and have become one of Hollywood's most recognizable power couples. The duo met at a Black Caucus dinner and have two kids, Satchel and son Jackson. Here is a timeline of the couple's love story.
1992

The couple, who met at a Congressional Black Caucus dinner in 1992, attended a screening of his movie Malcolm X that same year. 

1993

In 1993, the couple said, "I do." Here, they can be seen heading to Master Square Gardens to check out the filmmaker's favorite basketball team, the Knicks.

1994

In 1994, the couple welcomed their first child, Satchel Lee. In this 2005 image, the family can be seen together at the Tish School Of Arts Gala. 

1997

Jackson Lee, who was born in 1997  and appeared in the film Red Hook Summer, written and directed by his dad spoke about coming to the realization that his father was a well-known director. "It was in fourth grade when Inside Man came out. All my friends came to school on the Monday after, and they were like, "Oh my God, your dad's movie's amazing!" He told the Hollywood Reporter in 2021. "I loved seeing my dad working, but I didn't truly understand the magnitude of it. I thought my dad was just a big Knicks fan, honestly, because on the street, everyone was all like, "Oh, Spike! How 'bout the Knicks?"

1998

The married couple were in perfect sync at the 70th Annual Academy Awards on March 23, 1998. This was also the year that the director of one of his films, He Got Game, starring Denzel Washington, opened at number one at the U.S. box office.

2002

In 2002, 25th Hour was released and referred to by GQ magazine as "the best and most accurate depiction of a post-9/11 New York City." Spike told the outlet, "This was about the soul of New York City," he said. "I made this film for New Yorkers, and I think they understand this is about them—this is for them."

2008

The She's Gotta Have It  writer and director has always been willing to tackle tough topics in his movies, and The Miracle at St. Anna was no different. The story depicts an unspeakable massacre in a small village in Tuscany. Here, the family attends its premiere at Warner Moderno Cinema in Rome, Italy.

2015

The director and producer threw a birthday surprise bash for his wife at The Skylark on March 30, 2015, in New York City. Lewis Lee also launched Movita Organics in that same year. She founded the brand to advocate for women's health. The mom of two also has written two children's books, Please Baby Please and Please Puppy Please.

2021

Like their parents, Satchel and Jackson are a part of the arts. In 2021, the siblings were named Golden Globes Ambassadors. Jackson, a director who has started a creative agency, was the first Black male to hold that honor, and Satchel was the first openly queer person. "I am a photographer, filmmaker, writer, creative director, and producer," Satchel told the New York Times. "I want to be the Gertrude Stein of this generation."

2023

The award is awarded to individuals for their exceptional contribution to movie or television culture.As always, his wife was by his side as Spike was awarded the BFI Fellowship earlier this year in London, England.