BAFTA 2023: Ariana DeBose Shouts Out Angela Bassett And Viola Davis With Hilarious Rap Performance
In a now-viral performance, the actress turned into everyone's favorite rapper for the evening.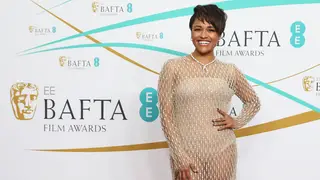 Ariana DeBose has gone viral after an entertaining rap performance at the 2023 BAFTA awards on Sunday (Feb. 19).
Performing her own musical theater rap rendition of the Eurythmics 1985 song "Sisters Are Doin' It for Themselves," the Oscar-winning actress shouted out Angela Bassett, Viola Davis, Danielle Deadwyler and other actresses nominated that evening in a plethora of categories
As DeBose ran through her list of female stars in the audience, the camera panned to each of them when they were mentioned.
"All the ladies in the room, supporting and leading all here, I presume," she sang.
"Hong Chau; Dolly D; Kerry; and Carey with a C; Dame Emma, I'm so fond; Ana girl, you were great in Blonde; Danielle D, you broke my heart; Michelle, I've loved you from the start," she continued. "Angela Bassett did the thing. Viola Davis, my Woman King. Blanchett, Cate, you're a genius; Jamie Lee, you are all of us."
Since her Sunday evening performance at London's Royal Festival Hall, DeBose has deactivated her Twitter account after receiving mixed reviews on the social media platform for the rap act, which some call a bit awkward.
It's unclear why the West Side Story actress has temporarily disappeared from Twitter. Still, BAFTA producer Nick Bullen spoke with Variety on Monday (Feb. 20) to respond to DeBose's critics calling it "incredibly unfair."
"We wanted to open the show with some energy, some fun, and also lay out straight away that this was hopefully going to feel like a different night, but with a familiarity as well, and what Ariana did was exactly that," Bullen said.