Chioma Nnadi Makes History As First Black Woman to Lead British Vogue
She succeeds Edward Enninful.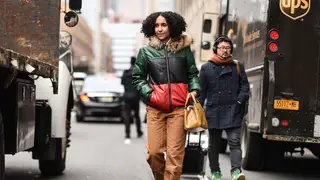 British Vogue has a new editor.
When the publication's current editor, Edward Enninful, departs, Chioma Nnadi will succeed him, as reported by The Guardian, making her the first Black woman to assume the highly recognized position. Chioma, who currently is the editor of the US-based website, will serve as head of editorial content, not editor-in-chief. Her new role will begin October 9, and she will presumably work alongside Anna Wintour.
The incoming editor spoke to The Guardian on her new role and the impact Enninful will leave behind.
"Is there pressure? Yeah, there's definitely pressure – it's Vogue," she said.
"It still means something to be in Vogue, it still has authority. [And there's pressure] because of Edward. He broke new ground. It's more than being part of a magazine – it's part of the cultural conversation."
Nnadi–who also co-hosts the US based podcast for the site– said she will strive for more "digital storytelling" and "interactive" content with subscribers.
Ahead of this new shift, Wintour said Nnadi is a "beloved colleague" who will not only work on fashion, but "music and culture."
"Working under Anna, you get a sense of what's going to be next. I haven't checked my email but she's probably on to the next thing already," noted Nnadi, while acknowledging Wintour's brilliance with "bringing Vogue into the future".
Nnadi has previously worked at Trace along with the Fader, and moved to New York in 2010 to work for Vogue. As she prepares to succeed Enninful, she explained how she intends to use her wide range of experience as a woman born of a Swiss-German mother and a Nigerian father as a tool for success.
"As a Black woman, but also as a biracial woman, how I view the world is also how I see it – through a lens that is influenced by my background, by where I live, and by having parents from different cultures and having to move between these cultures.
"Things have changed a lot. When I started out, there was one other Black person working in the building, and we both went to the same college. It wasn't the same place it is now. Obviously matters of diversity and inclusion should always be on the agenda, but it feels like more of an open conversation now, and that feels to me like progress," she said.
Although Enninful is leaving the magazine after six groundbreaking years, he will remain at Condé Nast as an advisor.