Voice Behind AI Rapper FN Meka Claims He's Never Received Any Payment
He also says creators "ghosted" him.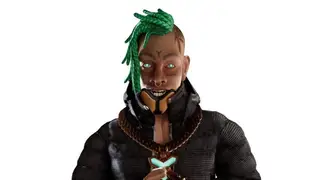 The man who claims to be the voice of controversial virtual AI rapper FN Meka is speaking out, claiming he was "ghosted" by the creators and was never paid after the project blew up.
On Tuesday (August 23), rapper Kyle The Hooligan spoke about his side of the story. Via Instagram, he claimed he collaborated with the creators of the virtual rapper but was not compensated for his services.
"I know y'all done heard about this FN Meka stuff. People been DMing me," Kyle says in the video.
"I been trying to keep it quiet because I was gonna really wait 'til this s**t blew up for real and went after them. Basically, it's like, they came to me with this AI s**t and was like, 'Would I like to be the voice of it?' I thought it was gonna some collaboration. They promised me equity in the company, percentages, all this stuff. "So I'm thinking, OK, this about to be some collab, something different for me, so where I can do my music and be on some AI stuff with this FN Meka character."
The Hooligan, who captioned the video, "Used me for my voice my likeness and the culture got 10million TikTok followers and a Big record deal off what I created then ghosted me…," added that nothing he was guaranteed was fulfilled.
"So, everything is going good," continued. "Next thing I know, n****s just ghosted me. Used my voice, used my sound, used the culture and just literally just left me high and dry. I aint get a dime off of nothing. And they got record deals, all this stuff. I wasn't involved with no meetings or none of that, which is f****d up. So, honestly, I'm glad they ass got canceled. That's karma for they ass."
Less than two weeks after AI rapper FN Meka signed to Capitol Records, the label severed ties with the robot amid backlash surrounding the n-word. According to Variety, Capitol Records issued the following statement: "CMG has severed ties with the FN Meka project, effective immediately. We offer our deepest apologies to the Black community for our insensitivity in signing this project without asking enough questions about equity and the creative process behind it. We thank those who have reached out to us with constructive feedback in the past couple of days — your input was invaluable as we came to the decision to end our association with the project."
The artist recently released a single "Florida Water" featuring Gunna, which has since been taken down. His 2019 single "Moonwalkin" which uses the n-word resurfaced on Twitter and caused controversy after users found out that no one on the team behind FN Meka was Black.