Stacey Abrams Claps Back At Criticism Over Maskless Photo With Children
Opponents of the Georgia Gubernatorial candidate seized on the opportunity to score political points.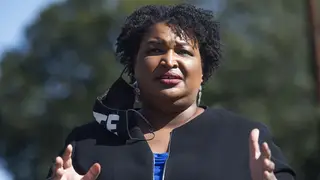 Georgia gubernatorial candidate Stacey Abrams returned fire on Sunday (Feb. 6) after her GOP critics accused her of hypocrisy over a photo of herself unmasked with masked school children. Abrams supports masking in schools while her likely Republican opponents oppose the requirement.
"It is shameful that our opponents are using a Black History Month reading event for Georgia children as the impetus for a false political attack, and it is pitiful and predictable that our opponents continue to look for opportunities to distract from their failed records when it comes to protecting the public health during the pandemic," Abrams said on Instagram.
The post continued: "One of Stacey's opponents downplayed the virus while trading stock to profit off the pandemic after his private coronavirus briefings as a Senator. Another of her opponents attacked mayors seeking to protect their citizens and has failed to expand access to Medicaid even as rural hospitals close. This pathetic, transparent and silly attack is beneath anyone who claims he wants to lead Georgia."
According to CNN, the photos were taken at Glennwood Elementary School in Decatur, Ga. at the 3rd Annual African American Read-In for Black History Month. The school's principal, Holly Brookins, tweeted them on Friday, which the prominent voting rights activist and former Georgia lawmaker retweeted.
Abrams' campaign manager, Lauren Groh- Wargo, posted a tweet Sunday that clarified what happened.
"Stacey trusts science and supports masking in schools as it's the current CDC recommendation. She wore a mask to the event, and removed it at the podium so she could be heard by students watching remotely and for photos, but only with folks who were masked."
Both Brookins and Abrams deleted the tweeted photos but not before Abrams' opponents took advantage of the opening for a political attack on a hot-button issue in Georgia.
"Stacey Abrams wants state government mask mandates for Georgians and their children. But it looks like they wouldn't apply when she's attending a photo op," incumbent Georgia Gov. Brian Kemp tweeted. In 2018, Kemp narrowly defeated Abrams to become governor.
Kemp could face a primary challenge on his road to a rematch against Abrams. Former Republican Sen. David Perdue, a Trump loyalist, has plans to square off against Abrams for governor. Perdue also seized the opportunity to call out the Democrat.
"We all know Stacey Abrams' hypocrisy knows no bounds," Perdue tweeted. "Liberals' thirst for power during this pandemic has caused enormous damage to our kids, while the elite like Stacey continue living their lives. What is even worse is that this is a classroom in Brian Kemp's GA, not NY or CA."