NAACP Demands Action Against White Supremacist Violence Following Sentencing Of Buffalo Shooter
Derrick Johnson, president and CEO of the NAACP, also called out Fox News.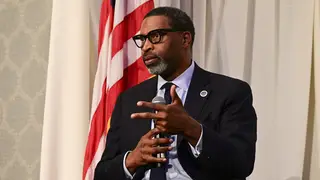 The NAACP is calling for urgent action to curb the spread of white supremacist violence in the wake of the sentencing of Payton Gendron. Gendron, a 19-year-old white terrorist, killed 10 Black people at a Buffalo supermarket last May and was sentenced to life in prison without parole on Wednesday (Feb. 15).
The horrific act of violence that Gendron committed is not an isolated incident. In recent years, there has been a significant rise in the number of hate crimes and acts of domestic terrorism carried out by white supremacists in the United States. This rise has been linked to the growth of extremist groups and the increasing use of social media to spread hate and radicalize individuals.
The NAACP has been at the forefront of efforts to combat white supremacist violence and has called for stronger laws and policies to prevent such incidents. They have also been advocating for increased awareness and education to help communities identify and address the signs of radicalization.
In a statement following Gendron's sentencing, Derrick Johnson, president and CEO of the NAACP, reiterated its commitment to fighting hate and white supremacy in all its forms and demanded more action. "The sad reality is that the Black community lives under the constant threat of violence," Johnson said.
"Every time we visit our churches, the grocery store, we are forced to consider the fact that we may never return home. While we understand that the pain of losing a loved one, especially under these horrific circumstances, will never truly be healed, it is our hope that these families can find some comfort in the fact that this white supremacist will spend the rest of his life behind bars."
Johnson also addressed Fox News and a culture of misinformation, "Everyone, including Fox News, Twitter, and all other media giants, has a responsibility to stop the spread of misinformation that directly contributes to the proliferation of racist conspiracy theories that motivate domestic terrorists such as this one. And when these corporations fall short on their responsibilities, it is up to our federal law enforcement officials to hold them accountable for their role in the tragedies that occur as a result. The NAACP will continue to fight back against white supremacy and advocate for the policies necessary to dispel the spread of hate and extremist agendas in order to ensure our communities are protected."
Payton Gendron is also facing the death penalty for 27 federal hate crimes.