Really, My Love? Mo'Nique Believes This Bizarre Theory Justifies That Rosanne Is Not Racist
So, we're going there with it?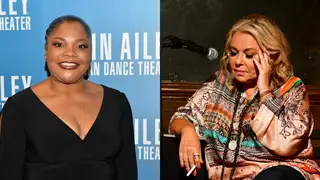 Mo'Nique is speaking out, once again, on Roseanne Barr's well-documented racist antics and, for a second time, she is reiterating that she firmly believes the actress is nothing of the sort.
In an interview with the Chicago Tribune, the comedian further went out of her way to defend and support the disgraced comic, dubbing her her "sister in comedy."
While speaking on her former late night talk show, she tangentially mentioned that she could never turn her back on Barr, justifying her stance by stating she was one of the few who did not hesitate to appear on the show while several Black entertainers declined.
"When she showed up, when the cameras weren't rolling, she said to me, 'Listen, you're the real deal. Don't let them use you up and take advantage of you, because they will. Don't you let them do that to you,'" she said. "Now, a racist woman ain't gonna say that to me."
When the interviewer stressed that Barr's career-killing tweets were "blatantly racist," she responded, "I'm gonna say this: We're comedians. And I know her. And what she thought was funny, as a comedian, that's what it was."
Things took a turn when the Blackbird star gave a questionable response when confronted with the comparison of her chastising Charlamagne Tha God for "spreading poison" during their infamous Breakfast Club interview, but giving Barr a pass on her obvious racism.
"When we talked privately — and we've talked privately a lot — she'll break her jokes down and I'll know where they're coming from," she continued. "She's like, 'Listen, you know how I grew up, so how could I start making fun of anybody? I'm not trying to hurt anybody.' Has she ever said, 'Kill Black people?'"
When the interviewer further informed her that the extreme hypothetical scenario she proposed in an effort to defend her friend's racism wasn't valid, she continued to cheerlead in her honor, attempting to validate that she's "down with the Blacks."
"And I can't argue with what you're saying — I can't baby," she said. "But, here's what I know about this woman: She was behind the scenes fighting for the Black [concert] promoters. Nobody knows that. She's behind the scenes trying to push a documentary about Malcolm X with a brother who's a Muslim. So, when I know about this, these things personally, did my sista say some things in poor taste? Some people could say yes. But what I won't label her is a racist."
Seeing as Barr was radio silent during Mo'Nique's lengthy campaign to be paid more from Netflix, this stands as quite a spirited and one-sided take from the opinionated star.