New Edition, Yolanda Adams, Snoop Dogg, Ms. Lauryn Hill And Others Celebrated At The Black Music And Entertainment Walk Of Fame
The event recognizes trailblazers in the industry.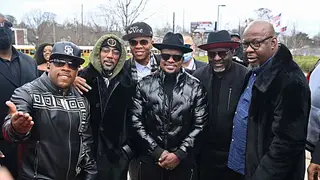 The Black Music and Entertainment Walk of Fame (BMEWOF) came out in full swing for its second biannual group of Black entertainers and trailblazers in Atlanta on February 17.
Inductees Donald Lawrence (Gospel Male), Yolanda Adams (Gospel Female), Bebe and Cece Winans (Gospel Group), Snoop Dogg (Hip Hop Male), Ms. Lauryn Hill (Hip Hop Female), New Edition (Mainstream Male Group), Mary J. Blige (Mainstream Female) and Tyler Perry (Mainstream Mogul) now have engraved Crown Jewels of Excellence along the sidewalk on Martin Luther King, Jr. Drive in front of Mercedes-Benz Stadium.
Cicely Tyson, Berry Gordy, Jr., Ray Charles and Smokey Robinson were also named Foundational Inductees while Lionel Richie joins as a Legacy Inductee.
"We've always been a part of Hollywood but not in a way that we felt was impactful," Catherine Brewton, BMI's vice president of creative and one of BMEWOF's co-founders, said. "This is about celebrating the creatives, business and community leaders of the Black community."
BMEWOF awarded its first ever International Fan Votes this year to Fela Kuti and Bob Marley. Grammy-winning musician and producer Wyclef Jean performed a musical tribute to Kuti, the late Nigerian artist and activist who pioneered Afrobeat.
"It's important that our history is written by us because there are parts of the art that will not go extinct," Jean said. "The contributions these artists give to the culture and to a generation is just as amazing as what the Rolling Stones have done."
The honorees that attended the induction ceremony expressed how speechless they felt having their names near one another. Adams, the host of a morning radio show who recently launched handbag, fragrance and jewelry collections, believes her inspirational messages are what landed her onto the Walk of Fame.
"We just do what we love to do, and we hope that some of you guys are enjoying what we're expressing," Adams said. "People have hearts, and we want hearts to be ok, especially right now. I feel responsible to give you guys the best of me and those parts not so polished."
Bebe Winans accepted the award on behalf of himself and his sister. His bio-musical that premiered a few miles away at midtown Atlanta's Alliance Theatre in 2016, "Born For This," is making its Broadway debut at the end of the year.
Receiving the honor is a full circle moment for Winans. "It's important for me to continue to do what I've been called to do, and that is touch lives," Winans said. "Situations like today just pats you on the back and says keep on going for a job well done."
BMEWOF's first class of inductees include Michael Jackson, Sean "Love" Combs, Shirley Caesar, Kirk Franklin, Missy Elliott, Outkast, Beyonce, and Usher. Legends James Brown, Otis Redding, Quincy Jones and Stevie Wonder were also subsequently named Foundational Inductees.
BMEWOF officially launched in 2021 as a joint effort between the Black American Music Association (YOBAM) and Georgia Entertainment Caucus (GEC), a bipartisan collective of politicians and entertainment industry professionals. Black entertainers and executives with at least two decades of significant contributions to the entertainment industry are eligible for a Crown Jewel of Excellence emblem on the sidewalk.
"We felt if we didn't do it or didn't say it, it may not get done," says Michael Mauldin, veteran music executive and one of YOBAM's co-founders. "We were gonna make sure that we preserved, protect and promote our legacy, history, and make sure that we drive it to the next generation."
"We didn't feel enough Black people had gotten their accolades and their flowers the way they should have," Dallas Austin, a GEC board member, adds. "We opened the door, but it takes people to keep it open."
YOBAM and GEC started discussing BMEWOF five years ago. Now made up of 23 selection members, both organizations knew sheltering-in-place during the coronavirus pandemic  was perfect timing to fully plan and execute the kickoff.
"We saw that there was a need for a unity and purpose around the artform and the community in spite all of the social injustice and unrest," Demmette Guidry, YOBAM's other co-founder, said. "We knew that the music would be the thing that would heal our community and the world. We always say Black music is one of the greatest artforms on the planet. Black music has a unique way to transmute all of that trauma, pain and joy."
State Representative Erica Thomas (D-GA) echoes Guidry that making the final selection of honorees is always a tough decision but one the consensus is proud of.
"There's so many talented artists everywhere, and people that have done so much for Black history," Thomas, GEC's co-founder along with Brewton, said.
"We're literally fighting on these Zoom calls, but we were able to narrow it down to some amazing, deserving people. This is something that should've been done years ago, but now that it's happening, we're gonna celebrate and keep this going. I'm happy we're able to preserve Black History during Black History Month."