Spoiler Alert: See The Badass Way 'Black Panther' Denounces Outdated European Beauty Standards
Actress Danai Gurira finally speaks out on the iconic wig-snatching scene.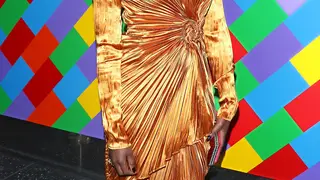 If you haven't seen Black Panther yet, stop reading now—don't say we didn't warn you! Plus, you're tripping, it's almost been a week!
Speaking of which, one of the best parts of the film (in our opinion!) is when Danai's character, Okoye, dresses in disguise with T'Challa (Chadwick Boseman) and Nakia (Lupita) to help capture the evil villain Klaw (Andy Serkis) at a nightclub. Noticeably, her bold warrior character is wearing a pretty revealing dress and loosely curled wig—a drastic departure from her signature Dora Milaje look. 
"I love that and we need that," she continues. "The wig line was in the script from the very beginning, and I love Ryan [Coogler] for writing that. I didn't pick the wig. I thought it looked good but she doesn't care about that. She's like, 'What is this? I don't wear wigs. I wear my bald glory.'" 
See a snippet of the epic scene for yourself below:
Can we also just revel in that wig-snatching scene for a second, y'all? She actually used her hair as a weapon—against the "colonizers," to quote Shuri—while rocking a couture dress. #WakandaForever! 
"[Okoye] is just being who she is," Danai revealed to People. "You know, being proud of her bald head and her tats. And how her femininity — all of the women [in the film] — their femininity coincides so seamlessly with their ferocity. And how those two things do not have to compromise themselves for the other thing. I thought that one moment kind of encapsulated all of that. The positive response it's gotten, I didn't think through to that."
Beyond the epic fight scene, the pivotal movie is doing serious numbers—last we checked, $361 million worldwide. Let's take a moment to toast all the haters that said it couldn't be done. Do you have a favorite scene from the movie? Spill below.