Travis Scott Apologizes for Throwing Summer Jam Cameraman Off Stage
Rapper says he was "such an a**" to the crew member.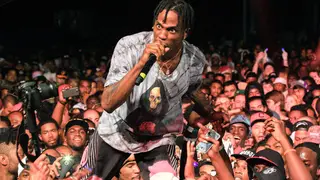 Travi$ Scott is apologizing for being "such an a**" after he kicked a cameraman off stage right in the middle of his set at Hot 97's Summer Jam. The rapper, who is not unfamiliar with on-stage antics, went in on the crew member who was attempting to shoot video of his performance. 
"Hey, get your f**king nerdy a** off the stage, bro," he told the videographer. "Go! Now! I don't know you, bro... Nobody on stage bro... No disrespect, I'm an artist... I don't care if you're working for Summer Jam, Bye! You're not working for Travis! This isn't Summer Jam, this is a Travis Scott show!"
Scott later took to Twitter to say sorry for his misbehavior. "T is sorry for being such a a**. All love my g. Let's continue the rage," he wrote, presumably about the incident, though he didn't say specifically.
No word on whether the embarrassed cameraman has accepted the apology. 

BET.com is your No. 1 source for Black celebrity news, photos, exclusive videos and all the latest in the world of hip hop and R&B music. 
Click here for a chance to win a trip to the 2015 BET Awards! 
 (Photo: Teresa Kroeger/Getty Images for Reebok)