Brandon Johnson Is Chicago's New Mayor: How Will His Tenure Impact Black People?
Chicago's 57th mayor takes office on Monday. But with his many challenges, it remains to be seen how that will affect the African American community.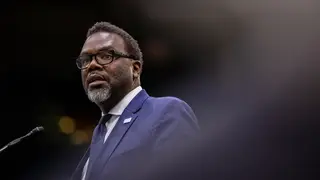 Many expect Brandon Johnson to be a breath of fresh air for Black Chicagoans when he's sworn in as mayor on Monday (May 15). But will that be the case?
Johnson, 47, and Paul Vallas beat incumbent mayor Lori Lightfoot in the Feb. 28 general election; Johnson bested Vallas in an April 4 runoff. With a margin of 51.4 percent to 48.6 percent, Johnson's win is the closest mayoral race in Chicago in 40 years.
Vallas, former CEO of Chicago Public Schools, ran a tough-on-crime campaign that promised an expanded police presence in the city. He also promised to continue expanding education options by opening more charter and private schools as an alternative to underperforming Chicago Public Schools.
That Vallas, a White man, came so close to winning the mayoral seat in a majority-minority city, with a Black and Latino population that together make up almost 60 percent, demonstrates how divided the historically segregated city remains. It also demonstrates just how much Johnson has his work cut out for him.
Johnson, a Cook County board commissioner, has promised reform across many pockets of the city, including public housing, the environment and mass transit. But the city's gun violence epidemic, and the subsequent police response that frequently makes national news, will undoubtedly be on top of his to-do pile.
As a Black man with a Black family, Johnson will certainly be scrutinized on his ability to support and provide for the Black population in a city where we're daily forced to see our marginalization via the contrast of our neighborhoods – mostly on the south and west sides of the city – with those on the north side. This is reflected not just in Chicago, but in every city with a large Black population.
Johnson is Chicago's first Black male mayor since the legendary Harold Washington, who was elected the city's first Black mayor 40 years ago. He established policies specifically designed to help the city's Black population, including the Residential Landlord and Tenant Ordinance that gave tenants more legal power over their (racist white) landlords and a low-income housing trust fund that subsidizes rent for Chicagoans to this day.
Unfortunately, Washington died before some of his most ambitious objectives could catch steam, including channeling more resources into blighted neighborhoods and creating jobs for citizens that need them the most. One wonders what Chicago might look like for its Black residents today had Washington not passed away and been allowed to complete his objectives.
Johnson appears to be the closest analogue we've seen to Washington; if he moves the way he says he will, Chicago could be a model for the rest of the country on how to treat their Black and Brown denizens.
Here are a few key pieces of his platform:
No, he's not defunding the police: "Defund the Police" has always been a tragically flawed slogan on its face. Johnson has publicly supported the concept in the past – something Vallas and Lightfoot used to attack him in there respective campaigns.
Johnson has promised a more "holistic" approach to policing, insisting he won't cut "one penny" from the city's nearly $2 billion police budget (one of the country's highest), instead planning to reallocate $150 million into other reform efforts, including efforts for the Chicago Police Department to comply with the consent decree.
Had he run on a "defund the police" platform, Johnson certainly would have lost to Vallas. As it stands, he'll have to tightrope-walk the issues of police presence in a city that terribly mismanaged the Laquan McDonald incident but is also suffering an epidemic of gun violence that doesn't appear to be abating anytime soon.
He cares about the environment: Chicago's most recent mayors demonstrated little interest in environmental sustainability in comparison to what they considered "more pressing" issues.
Johnson insists he's turning that tide.
He plans to bring back the Department of the Environment that Mayor Rahm Emanuel shuttered in 2011, along with a series of research and initiatives aimed, in part, at reducing "environmental racism," or the pollution by companies of majority Black neighborhoods on the south and west sides.
Johnson will likely face the pressure of earmarking the city's funds (which are always conveniently "strapped" until someone rich wants to build something) into initiatives that remain lower priorities many cities – and in a region that doesn't care as much about green initiatives as, say, the pacific northwest. Eyes will be on him to see how he does.
He's pro-union all day: Chicago is a perennial union town. The unions tend to support each other, and other Chicago mayors have run afoul of them to their peril. The mutual animosity that Lightfoot and Emanuel maintained with the Chicago Teachers Union (CTU) hamstrung them both, and might have led to the ouster of the former.
Johnson, a former CTU organizer, has positioned himself as a champion of the working class. He has the potential to lock in higher wages and safer working conditions for the city's hundreds of thousands of unionized employees – if he executes, he'll likely sit comfortably in that mayor's seat for some time.
He's for LGBTQ and gender equality: In a zeitgeist where local governments are making pointed legislative attacks on the LGBTQ community, Johnson has insisted he'll support them in Chicago, as well as work to curb gender bias in the city's workplaces.
He met with Black LGBTQ leaders while on the campaign trail, and his official website states that he intends to "combat violence against Black Trans women," "expand health care access and protect reproductive rights" and "launch citywide effort to end gender-based violence and sexual assault."
I'm not sure we've seen a Black male heterosexual-identifying American mayor make it a point to appeal to the trans community – Johnson could be without precedent in this regard.
He's wants to protect existing public schools: Not only is Johnson a former teacher and member of the Chicago Teachers Union, but he'll be the first mayor in quite some time with his own children enrolled in Chicago Public Schools.
Whereas Vallas was a supporter of school choice and helped precipitate the proliferation of charter schools in Chicago, Johnson is firmly opposed to opening more schools at the expense of existing CPS schools.
Johnson insists on channeling more resources to the schools and their educators. He also plans to move to an elected school board, eliminating the contentious model of the mayor electing the board that's been in place since 1995.
To some, Johnson's win represents a shift away from the wealthy elite determining the schooling of Black and brown children – one that could take hold in the rest of the country if proven effective.