Juvenile Brings 90's Rap to NPR's Latest 'Tiny Desk' Feature
There is nothing 'juvenile' about his stellar performance.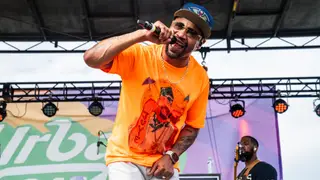 Famed rapper Juvenile really "set it off" at NPR's Tiny Desk this week, being the perfect performance to close out their Black Music Month series.
Last June, artists featured included Usher and Larry June, who got to share their voices to celebrate Black music all month. This year's lineup had the 'outstanding' Charlie Wilson and the smooth soul of Babyface and Tank's  twist of "big, nasty Desk," NPR coined.
Juvenile initially denied the proposal of joining the Tiny Desk crew, but after posing a challenge to his fans, his heart grew fonder of the idea and booked the gig.
The New Orleans rapper started in the early 90s blowing up in the bounce music scene, leading to his debut album, Being Myself. He famously signed to big-time rapper and record executive Birdman's Cash Money Records, bringing him to nationwide fame for hits like "Back That Azz Up'' featuring Mannie Fresh and Lil Wayne and "Slow Motion". He also joined the Hot Boys group with rappers B.G., Turk, and Lil Wayne.
A fierce group was put together for this week's feature, including fellow New Orleanians, 'Tiny Deskers' Trombone Shorty, Alvin Ford, and musician Jon Batiste. D.C. locals The Amours joined as the backup vocals, while the Louisiana Philharmonic came in for the grand finale. To top it all off, the foundation of the iconic Cash Money Records' sound DJ Mannie Fresh laid the tracks down for a mic-dropping performance.
The set list included all the 90's and early 2000's favorites, from the hot and heavy "400 Degreez" to showing off that "Bling Bling". Explicit and unfiltered, this performance lit the desk on fire, and for the first in Tiny Desk history, the audience demanded an encore.
They ask, and they shall receive! Juvenile's classic "Back That Azz Up" got double the air time on this one-of-a-kind unexpected NPR feature.
Fans are already losing their minds over the bounce music bangers on this long-awaited performance. One said, "When I tell I've been preserving my knees for THIS Tiny Desk 😁 Yesss!! Icy hot don't fail me now lol 💃🏽," anticipating the collab. Another, impressed by his fan base, said, "I'm smiling hard af right now! Someone literally tweeted he should do a Tiny Desk and they made that sh!t happen🥰"