Angelina Jolie Does Electric Slide At Daughter's Spelman College Send Off
The actress and her 17-year old daughter literally danced with joy.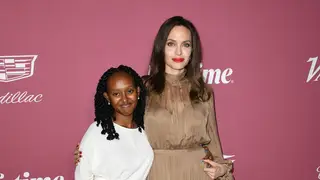 Angelina Jolie and Brad Pitt's daughter, Zahara Joie-Pitt will be attending the historically Black college Spelman in the fall.
The actress took to her Instagram page to share the exciting news.
"Zahara with her Spelman sisters! Congratulations to all new students starting this year," she wrote. "A very special place and an honor to have a family member as a new Spelman girl. #spelman #spelmancollege #spelmansisters #HBCU."
On Friday (July 30), an annual Spelman and Morehouse College (SpelHouse) send off was held in Los Angeles, C.A. Alumni of both prestigious HBCU's were in attendance.
Jolie, 47, was in attendance at the SpelHouse celebration and can be seen doing the Electric Slide, while holding Zahara's hand. The room was full of smiles and Jolie was shown support as she learned the classic dance to Cameo's "Candy."
Zahara is one of Jolie and Pitt's six children.