Tamir Rice Shooting Ruled 'Objectively Reasonable'
Grand jury to decide whether or not officers face charges.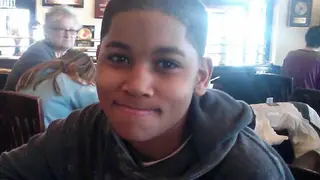 The police shooting death of 12-year-old Tamir Rice made headlines last year and incited the anger of the Black Lives Matter movement, but two experts are now reporting that the action was reasonable and justified.
In reports prepared for the Cuyahoga County Prosecutor, the action taken against Rice, who was holding a pellet gun at the time of his death, has been labeled "objectively reasonable."
One report concludes, "There can be no doubt that Rice's death was tragic and, indeed, when one considers his age, heartbreaking. However, for all of the reasons discussed herein, I conclude that Officer [Timothy] Loehmann's belief that Rice posed a threat of serious physical harm or death was objectively reasonable as was his response to that perceived threat."
Cuyahoga County Prosecutor Timothy J. McGinty said a grand jury will decide whether Loehmann and his partner, Frank Garmback, will face charges.
Rice's family, meanwhile, believes the reports are part of a whitewashing of the events that took place. Subodh Chandra, an attorney for the Rice family, said the family wants the officers held accountable, but doesn't think McGinty's office is pursuing it.
"Any presentation to a grand jury –– without the prosecutor advocating for Tamir –– is a charade," Chandra said. "To get so-called experts to assist in the whitewash –– when the world has the video of what happened –– is all the more alarming."
Rice was killed last November by an officer in training outside a Cleveland recreation center, where he was playing with his sister. A witness called 911, reporting there was "a guy with a pistol," adding that the weapon was "probably" fake. He was shot almost immediately upon police arrival.
BET National News - Keep up to date with breaking news stories from around the nation, including headlines from the hip hop and entertainment world.
Watch: BET News: The Killings That Pricked Our Conscience in 2014 in the video below.