Report: Rocko Arrested in Atlanta for Drag Racing
Rapper charged with driving on a suspended license.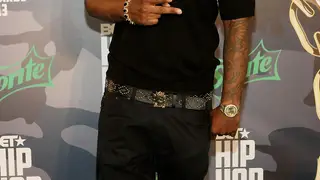 "U.O.E.N.O." rapper Rocko was recently busted after cops reportedly caught him and a friend racing his Rolls Royce and BMW on Atlanta's Interstate 75.
According to TMZ, police spotted the bourgie drag race Friday (March 6) and attempted to alert Rocko and his friend but while the "Umma Do Me" rapper slowed down, his friend tried to escape. The cops eventually caught him and proceeded to arrest him for fleeing and eluding a police officer.
Though cops caught up to both vehicles, they could not charge either with drag racing since they both slowed down. Rocko, however, managed to snag a charge for driving on a suspended license.
He may have been rushing to drop his new single, "Lil Gurl S**t" featuring Young Thug, which he posted to his Facebook page that day. No word yet on where it will land. His last release was 2014's Poet EP, featuring a special guest appearance from Nas.
BET.com is your No. 1 source for Black celebrity news, photos, exclusive videos and all the latest in the world of hip hop and R&B music.
(Photo: Bennett Raglin/BET/Getty Images for BET)