Fivio Foreign Teases Song Sampling a Ma$e Classic Amid Advance Dispute
The rising star was previously signed to the Harlem rapper's RichFish label.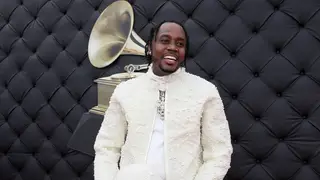 Brooklyn drill rapper Fivio Foreign was signed to Ma$e's RichFish record label with a production deal in 2019. However, he and his former label head are in dispute about how much the rapper was offered in the form of an advance.
Fivio told Million Dollaz Worth of Game podcast hosts in July Gillie Da Kid and Wallo267 that he got a $5,000 advance, but in a recent appearance on the same show—Ma$e contended that the advance was actually $750,000.
As the dispute heats up, Fivio teased a new unreleased song on his Instagram which clearly samples Ma$e's 1997 hit single, "What You Want," featuring Total. He captioned the post simply, "What you want from me?," with emojis depicting the shh gesture and a purple devil.
"The n***a that brought me to him, he was like, 'Yo, man. Just sign that shit, You buggin,' I'm like, 'Yeah, read it.' He's like, 'Alright, just sign it. It's good.' So, I just signed it," Fivio told Gillie Da Kid and Wallo267 in July.
"I thought that sh*t was going to last until whenever it was going to last. That shit ain't last two weeks." Fivio continued. "I don't really be complaining or crying over spilled milk. I already made this decision. For me, I'm in a better situation now. He get what he get…But I control my money."
But, earlier this week, Ma$e accused the Brooklyn rapper of being "reckless" and saying that the advance was three-quarters of a million dollars.
"Because I set him up to do a deal to where I can control the deal, make the deal what it should be because I knew if he had the leverage, he would go in there and sell both of us out," Ma$e explained, per Complex.
"Then, when we went in the building, I took $800,000 and he took $700,000," he added. "The reason why it went down to $700,000 is because when I gave him $750,000 and I took $750,000, he owed me $50,000."
Fivio Foreign has collaborated with Kanye West and others. As the dispute with Ma$e continues—he speculated on Twitter that he might take his claims to another well-known court of public opinion, the Drink Champs podcast.