Report: Chris Brown Refuses to Leave Karrueche Tran Alone
Not even a restraining order can stop him.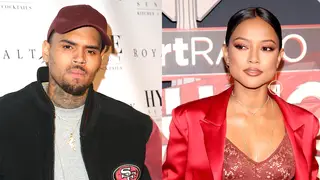 The drama between Chris Brown and Karrueche Tran seems to be getting scarier by the day. Last we heard, Tran had filed a restraining order against the troubled singer after she claimed he abused her during their relationship and has been threatening her since they broke up. Now, it appears that Brown is refusing to accept the restraining order.
Reports claim Brown is dodging the order, disallowing his law firm from accepting the necessary paperwork and causing the court handling the order to delay a scheduled hearing until April 19.
Thanks to Brown's failure to cooperate, Tran's firm has reportedly hired a private company to find and serve Brown the legal papers. "Generally, high profile people accept service through their attorneys," Tran's lawyer, Michelle Trigger, told NY Daily News. "I would not use the word stonewalled," she said. "Honestly, service issues are not unusual."
Tran's claims that Brown struck her twice and threw her down a flight of stairs and that he threatened to kill her. Until she finds a way to make Brown accept the permanent restraining order, she is protected by a temporary one. 
See the latest news in the legal battle between Tran and Brown with The Wendy Williams Show, above.