Alicia Keys Just Dropped $20M On This State-Of-The-Art Mansion Dubbed The 'Razor House'
The four-bedroom California mansion (with two master suites) overlooks the Pacific Ocean.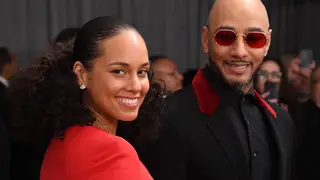 Those who were plotting on the $30 million "Razor House," built by AD100 designer Wallace E. Cunningham, are probably sleeping with a broken heart right now! 
Last week, Alicia Keys copped the 10,653-square-foot manor in La Jolla, California, for almost $10 million less than the original asking price.
After dropping a cool $20.8 million on the stunning abode overlooking the Pacific Ocean, the 38-year-old singer was given the keys, along with with the unbelievable perks the four-bedroom mansion (with two master suites) has to offer! 
According to Architectural Digest, the luxurious home not only offers mesmerizing views thanks to its walls of glass and floors made of travertine stone, but it also comes with fun highlights including fitness space, two steam rooms, a den, a theater, and a library with a custom-made Ralph Lauren pool table.
Fashioned with a state-of-the-art kitchen and giant round living room with a fireplace, Alicia and her music producer husband, Swizz Beatz, will have everything they need to unwind with their sons, Egypt and Genesis, including several outdoor lounge areas. 
If the family decides to throw a house warming party, attendees will have multiple entertainment areas to enjoy including a courtyard fire pit, a rooftop with a kitchen, and an infinity pool that perfectly hovers on the edge of the cliff. 
Seeing is believing, take a look inside the couple's fancy new mansion, below:
As for move-in day, with an all-glass elevator at the couple's disposal, the pair should have no problem making the place feel like home. 
While a music studio was not mentioned, we are sure the musical power couple will put good use the additional 1,301-square-foot, two-bedroom guest house they have on the premises.
We don't know about you, but hearing of the mansion's conveniences, this is starting to sing the tune of a forever home!