Black Unemployment Ticked Up to 13 Percent in August
The Black unemployment rate for August was 13 percent and the overall unemployment rate was 7.3 percent.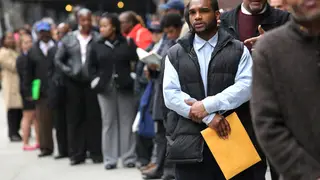 The African-American unemployment rate for August rose to 13.3 percent from 12.6 percent in July, according to figures released by the U.S. Labor Department. The national unemployment rate fell slightly from 7.4 percent to 7.3 percent.
Heidi Shierholz, an economist at the Economic Policy Institute, cautioned against making too much of the hike in Black unemployment. The reality is that the dip from 13.7 percent to 12.6 percent in July was more of a false positive than reason to be optimistic. The numbers tend to be volatile month to month, she explained, because of the small sample pool of people used to determine the rate.
"I don't think the big drop last month represented an improvement the same way I don't think this partial reversal this month represents that dramatic of a deterioration," Shierholz said.
Lowering the rate of unemployment among African-Americans will depend in large part on policies implemented by the government to boost the economy, she added.
"Congress should step in and authorize fiscal expansion and stimulus to generate economic activity and create jobs. They could do that, they're choosing not to, so we're in this long slog," Shierholz said.
The Labor Department on Thursday reported that 323,000 first-time claims for unemployment benefits were filed last week, down by 9,000 from the week before — and the lowest level since January 2008.
"It is steady as she goes in the job market," says Mark Zandi, chief economist of Moody's Analytics, which helps ADP prepare the monthly report. "There is little evidence that fiscal austerity and health care reform have had a significant impact on the job market."
House Majority Leader Eric Cantor disagrees. He believes the real reason the national unemployment rate is lower is that fewer people are looking for jobs because they've given up hope. He also warned that implementation of the Affordable Care Act will only exacerbate the situation.
"The unemployment rate is going down, but largely because so many folks have given up hope that they could find a job if they looked for one. Many working middle class Americans can't find a job or are being forced to take part-time work because of the devastating effects of Obamacare," the Virginia Republican said, adding that the health care law "must be repealed or we will continue to witness depressed job growth."
In a statement the White House acknowledged that the overall unemployment rate is too high, but said since late 2009 it has been on a downward spiral.
"Over the last four years, we've cleared away the rubble from the financial crisis and begun to lay a new foundation for stronger, more durable economic growth," said Jason Furman, chairman of the Council of Economic Advisers. "While continued solid job gains, today's employment report is another sign of progress, the report also underscores the need to continue pursuing policies that move our economy forward and restore middle class security."
BET National News - Keep up to date with breaking news stories from around the nation, including headlines from the hip hop and entertainment world. Click here to subscribe to our newsletter.

(Photo: John Moore/Getty Images)