Offset Accused Of Cheating On Cardi B Once Again
New sextape allegedly caught the rapper in the act.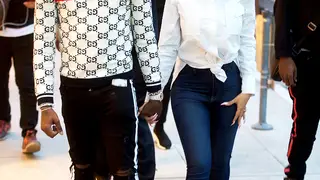 While Cardi B should be riding high off of the success of her new "Finesse" remix with Bruno Mars, the rapstress is back in the middle of infidelity rumors courtesy of a new claims on social media. Two video clips of a man, who is said to be Cardi's fiancé Offset, engaged in sexual activity with another went viral on Twitter today (Jan. 04).
TheShadeRoom announced news of the alleged sextape and revealed that it's accessible through searching the Offset hashtag on Twitter. The man in both videos was visibly nude and sported dreads similar to the ones worn by the Migos rapper, but the footage wasn't clear enough to confirm whether or not it was Offset.
While Cardi B and Offset have yet to address the new rumors, tons of social media users hopped on Twitter with thoughts on the news.
Check out reactions to the alleged Offset sextape below: