Sen. Raphael Warnock Holds Off Challenge From Herschel Walker In Georgia Senate Runoff Election
The win gives Democrats a clear majority in the Senate, and Warnock a six-year term.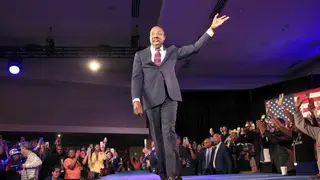 Sen. Raphael Warnock defeated challenger Herschel Walker Tuesday night (Dec. 6) to win a six-year term in the U.S. Senate in a close battle that resulted in a runoff, CBS News reported. With a 51-49 member majority, The victory gives Democrats clear control of the body over Republicans, who took control of the House of Representatives in the November election.

"In a sense, I am Georgia. I am an example, and an iteration of its history of its pain and its promise and the brutality and the possibility," Warnock said at a victory celebration shortly after the race was called in his favor. "But because this is America and because we always have a path to make our country greater against unspeakable odds, here we stand together."

Warnock, 53, is a minister and senior pastor of Atlanta's Ebenezer Baptist Church, where Rev. Martin Luther King Jr. once preached. He was chosen for the Senate in a 2021 special election, beating incumbent Kelly Loeffler, who was appointed when then-Sen. Johnny Isakson resigned in 2019. He and fellow Democrat Jon Ossoff became the deciding factor in giving Democrats control of the Senate after the party won the 2020 presidential election.

RELATED: Georgia's Election Frenzy Ends Tonight; What Voters Can Expect

Running again for a full-six year term, he faced Walker, a former NFL star with the Dallas Cowboys and University of Georgia Heisman Trophy winner. A businessman and outspoken conservative, Walker had spent years espousing right wing narratives, particularly around abortion, and religious values. But allegations of past domestic abuse and accusations that he coerced at least two women to get abortions dogged him through his campaign. Supported by former President Donald Trump, and the far right corners of the Republican Party, Walker not only was unable to capture a majority of Georgia voters, he managed to alienate GOP members with a lot of incoherent rhetoric through his campaign.

The two men ran for the Senate seat in the November election, but neither gained more than 50 percent of the vote, leading to the runoff. Democrats won control of the Senate when John Fetterman and Mark Kelly posted victories in Pennsylvania and Arizona, respectively. But Warnock's win means Democrats no longer need Vice President Kamala Harris' vote as a tiebreaker.  

Georgia has been a political battleground since 2018 when voting rights advocate and former state legislator Stacey Abrams ran for governor but lost in a narrow, bitter defeat, to then-Secretary of State Brian Kemp. She ran again, but lost a second time in November to Kemp. But voters who supported Kemp, did not necessarily feel the same way about Walker. According to CBS News' vote count late Tuesday, Warnock won 51.2 percent to Walker's 48.8 percent, beating him by more than 85,000 votes.

In his concession speech, Walker, 59, said he was "never gonna stop fighting for Georgia," according to the Atlanta Journal-Constitution. "There's no excuses in life and I am not going to make any excuses now because we put up one heck of a fight," he said to supporters at the College Football Hall of Fame in Atlanta. "But the best thing I've ever done in my whole entire life is to run for this Senate seat right here."

RELATED: With Senate Race In Final Hours, Herschel Walker Seems Confused About What He's Running For

But one of Walker's most fervent critics, his son Christian who blasted him over his past explained in a Twitter post why he felt his father lost.
Now with clear control of the Senate, Democrats can execute President Biden's agenda as he continues his term in the White House. While Republicans will have a narrow majority in the House, they did not come out as powerful as they had hoped, although it will be enough to push back against Biden. What's at stake now is the push toward the 2024 election. Trump has already announced his candidacy, but GOP members are scrambling to introduce alternatives because of how many feel his presence skewed the 2022 midterms.
Meanwhile, Biden has yet to announce his intentions on running for a second term. A Democratic-led Senate will almost certainly give him the momentum he'll need to make a case.

"No one senator has a veto," Senate Majority Leader Chuck Schumer said Tuesday in a memo sent to the Progressive Change Campaign Committee, according to Business Insider. "When you have 50 senators, any one senator can say, 'I'm not voting for it unless I get this, this, or this.' With 51, we can go bolder and quicker — to show Americans what Democrats stand for."