PnB Rock's Girlfriend Breaks Her Silence On His Death In Emotional Instagram Post
She says the rapper saved her life.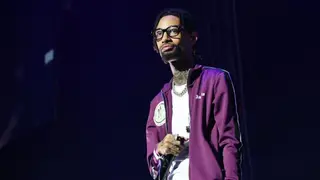 Yesterday marked one month since rapper PnB Rock, 30, was shot and killed at a Roscoe's House of Chicken & Waffles restaurant in South Los Angeles. His girlfriend is now speaking out.
On Thursday (Oct. 13), Stephanie Sibounheuan posted a video of the two of them with a caption that read, "I am 100% not ok. If I wasn't spiritual I could kill my self (but then I'll go to hell and my man not there)."
She continued, "My man saved my life, Throwing me under that table. I'm not supposed to be here but bc of him. I am. No one would be able to handle this. TBH, I can't even handle this. To witness what I saw and to keep seeing it in my head, to being forced out the restaurant, to not be able to go in the ambulance or the hospital, Car keys, purse and my phone taken from me, forced in the back of a police car, locked in an interrogation room all night, while all this is going on and to be the last person in this world to know my man didn't make it after having the faith and confidence that he was."
According to The Los Angeles Times, a 17-year-old, whose name has not been made public, and Shauntel Trone, 38, are in custody for the shooting of PnB Rock. Shauntel is reported to be the teenager's stepmother. A third person has also  been named, Freddie Lee Trone, who is currently on probation for a 2017 charge of driving a car with wanton disregard for public safety, is waiting to be extradited from Las Vegas.  The Los Angeles Police Department has identified Freddie Lee Trone as the 17-year-old's father.
The Los Angeles Times reports law enforcement believe PnB's murder may have been an organized hit. Rock, whose real name was Rakim Allen, was also robbed for his jewelry.
The teen is scheduled to have a pretrial hearing on October 19.