Attorney Confirms Usher Is Being Sued By a Man Who Claims They Had 'Direct Sexual Contact'
Things just got messier.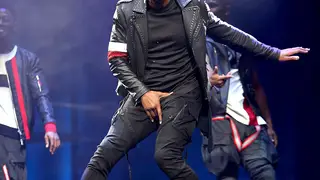 More shocking details about the upcoming lawsuit to be filed by three alleged victims who claims they had sexual relations with Usher without knowledge of his status are being revealed.
In her statement to the press this morning, popular celebrity attorney Lisa Bloom spoke out on behalf of the alleged victims, confirming that one of them is a man who had "direct sexual contact" with the singer.
"Today, I am filing a lawsuit on behalf of two women and one man who say they had sexual contact with Mr. Raymond," Bloom said. "All of my clients allege that they've had direct sexual contact with Mr. Raymond, and one of them has been tested positive."
Bloom revealed that several others have privately come forward with claims that they had sexual contact with Usher, who failed to disclose that he allegedly had herpes.
"The law requires that people with herpes warn their sexual partners or abstain from sex. Those are the only choices," she said. "Everyone, even those who have been swept off by a superstar, deserve respect, and all we are asking is that Mr. Raymond publicy announce whether he is infected with herpes and if so, he must inform all of his past sexual partners. He has not denied any of these claims."
During the press conference, Bloom's client, one of the alleged victims, Quantasia Sharpton, 21, claimed she "engaged in sexual contact" with Usher when she was 19. She said that she has since tested negative for herpes, but would not have agreed to have sex with him if she had known of his alleged status.
Usher reportedly paid a celebrity stylist $1.1 million after allegedly infecting her with the STD back in 2009 or 2010.
Get more details on the Usher scandal with BET Breaks, above.